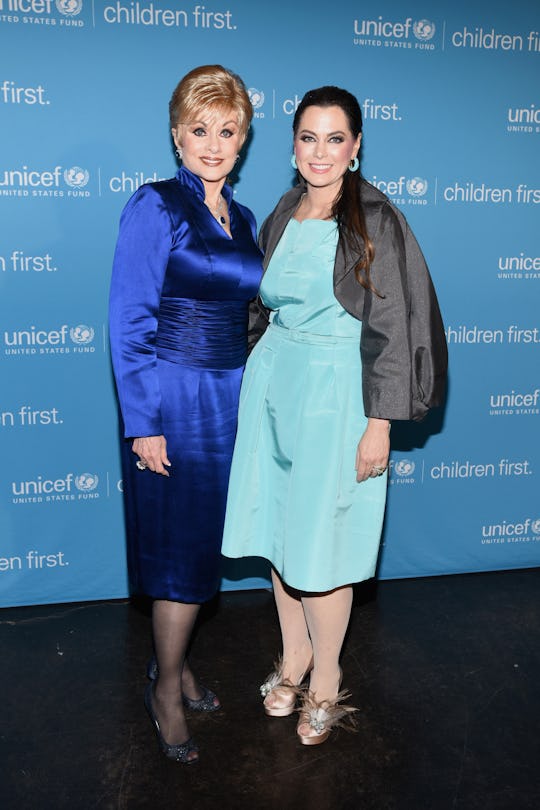 Cooper Neill/Getty Images Entertainment/Getty Images
Everything You Need To Know About D'Andra Simmons' Mom's Company
After 14 years of waiting for her mom to hand the family business over as promised, D'Andra Simmons is finally taking her skincare line Hard Night Good Morning and striking out on her own. The cruelty-free collection is a brand she developed under mom Dee's parent company, so viewers tuning in to Real Housewives of Dallas may be wondering: what is D'Andra Simmons' mom's company? She founded it in the early '90s and it's still up and running today.
Ultimate Living International first began as a line of nutritional supplements. According to the company's website, Dee Simmons was diagnosed with breast cancer in the 1980s and after undergoing an eight-hour radical mastectomy, she decided to forego chemotherapy as the next course of treatment. Instead, she traveled the world, researching alternative therapies with doctors from other countries, naturopaths, and other alternative medicine practitioners. She wound up overhauling her diet and credits her improved nutrition with keeping cancer at bay. So she decided to convert the nutrients she was taking in as part of her personal diet into a nutrition supplement line, marketed it on shopping channels, and blew up. In 2004, when D'Andra gave up her burgeoning career at the Department of Energy in Washington, D.C. to move back home and begin the process of taking over the company, she proposed that Dee expand into skincare.
Dee has her own skincare line as part of Ultimate Living, too, but Hard Night Good Morning is D'Andra's venture and she's hoping to split her brand from her mom's company to run independently. Of course, this means that she won't have the financial backing of an already successful corporation behind her, so it's a tough time for D'Andra. She'll be running the company using the trust fund she lives off of, set up by her late father, but that means she'll no longer be taking a salary home, like she did as the CEO of Ultimate Living.
It's caused a bit of a moment of reckoning for her, which viewers see play out on the show. D'Andra is worried about being ostracized from Dallas society circles once it becomes plain that she's scaled back on her lavish lifestyle. She also feels embarrassed that her financial circumstances have changed so drastically, despite the fact that it means she'll finally be taking control over her own life. On the bright side, divesting from her mom's company and shifting into a slightly different economic class has also shown D'Andra that she's always felt uncomfortable being herself in "the society world," as the Housewives call it.
Cast-mate Brandi Redmond has been a big part of this emotional shift for D'Andra. Brandi owns the fact that she grew up in a trailer and is very, very new money. Many of her old money cast-mates chastise her for being immature or improper, but Brandi just doesn't care about appearances in the same way many of the other women, including D'Andra, were raised to. It seems like D'Andra has taken some lessons from Brandi's more free-spirited way of being and is trying her best to be her more authentic herself — to the dismay of her society friends like LeeAnne and Kameron. Whether or not they'll come to embrace the goofier, more relaxed D'Andra remains to be seen.