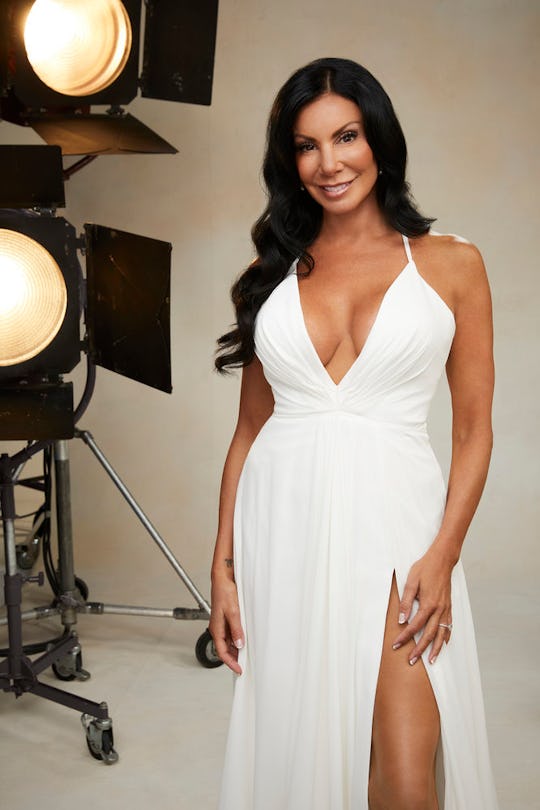 Rodolfo Martinez/Bravo
Danielle Staub Has Done Well For Herself Outside Of 'RHONJ'
One of the themes of the Real Housewives Of New Jersey's season premiere was how the women balance their career and personal life. Melissa's finally found some balance at the boutique, newcomer Margaret owns a huge clothing and lifestyle company, and Siggy was having problems with her new boyfriend who doesn't want her to work so much. The other woman are also business-oriented: Dolores has her gyms and Teresa is a full time mom and author. But what is Danielle Staub's job?
Her official bio on Bravo says that she balances being a mother of two girls, now 23 and 19 years old, with her "busy career," but it's hard to track down just what Danielle does. Before being on RHONJ, Danielle appeared in one episode of All My Children, the long-running soap opera. Since her time on the show, she's also appeared in other reality TV shows and once said that she would like her own reality series, though now that she's back in with the Bravo crowd, she might not need one. She's also the author of an autobiography called Naked Truth and tells the behind the scenes story of her life prior to RHONJ. The publisher wrote of the book:
Staub's memoir is fraught with tragedy and heartache, low-lifes and high society. From living the good life as a model in Miami, spending a stint in the Big House after getting mixed up with mobsters and the FBI, stripping and fighting for her life in New York to finally settling down in New Jersey with her daughters, Danielle thought she had already seen it all.
According to her book, she was also once married to an undercover FBI agent, Kevin Maher, who wrote a book about the experience. Danielle is fairly open about her past both in her book and on the show. She was arrested in 1986 for extortion and cocaine possession and went to jail. Just after leaving RHONJ and publishing her book, Danielle also signed a deal at Gentleman's Club, where she was set to strip. But after pictures of her performing appeared on the internet, she reneged on the offer and said that she was going to rehab for addiction and some mental health issues.
Staub said at the time:
I have addictions with love and low self-esteem, and I need help. My low self-esteem derived from childhood sexual abuse has messed with my mind and self-worth, and over the years I thought about getting help but pushed it deep into the depths of denial. For years I have had the suicide hotline on my cell phone and would like nothing more than to free myself from this constant pressure.
Living in the public eye cannot have been easy for her going through all that, but it seems like things have calmed down in her life. Although what she's doing to make money right now is still sort of a mystery, though as the season progresses fans might get to hear more about what she's doing right now. Especially since the other women are all talking about their careers and work life balance.
The titles of the series is pretty misleading in that sense, given that most of the women on the New Jersey, and other casts, all have their own careers. The RHONJ crew especially: Not only do they have careers, they're proud and ready to fight for them.
Last season Melissa and Joe fought about her opening her own store and according to the teaser for the season, he buys a restaurant this year and puts her business at risk. While they're all hashing that stuff out, it's likely Danielle will share her thoughts about women in the workforce and what she's up to when she's not on-screen. You know she's not one to keep quiet.
Watch Romper's new video series, Romper's Doula Diaries:
Check out the entire Romper's Doula Diaries series and other videos on Facebook and the Bustle app across Apple TV, Roku, and Amazon Fire TV.