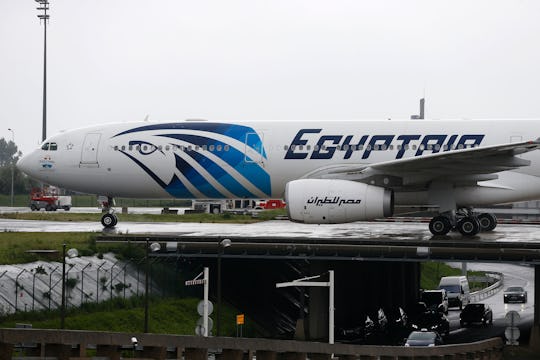 THOMAS SAMSON/AFP/Getty Images
What Is EgyptAir's Safety Record Like? Unfortunately, The Airline Has Had A Few Incidents
When the news hit on Thursday morning that EgyptAir flight MS804, traveling from Paris to Cairo, had been reported missing with 66 passengers aboard, confusion was quick to set in. How could a plane go missing? What could the cause have been? Could this have been a terrorist attack? While some of these questions are slowly being answered, another concern has begun to crop up. What sort of safety record does EgyptAir have? The airline unfortunately has a history of deadly incidents, but the company's future is still hopeful.
EgyptAir has been servicing passengers for over 84 years, and during those years has suffered through some serious incidents. The airline has seen seven separate hijackings since 1976, six of which saw multiple passengers killed. The most recent hijacking incident was on a domestic flight in March from Alexandria to Cairo, when a man claiming to have a belt made of explosives tried to take over the flight. The plane made an emergency landing Larnaca International Airport in Cyprus and it was discovered the man's belt was actually outfitted with cell phones. Apparently, the hijacking was not a terrorist attempt, but a man trying to get the attention of a woman he loved. Luckily, no one was injured and the hijacker was captured without incident.
One of the worst hijacking incidents in EgyptAir's history happened in 1985, when Palestinian members of the terrorist organization Abu Nidal took an Athens-bound plane by force. A standoff ensued and saw 58 of the 95 passengers onboard killed, as well as two of the three hijackers.
Since 1972, EgyptAir has also had a history of deadly crashes. The worst incident happened in 1999, when a flight from Los Angeles bound for Cairo crashed off the coast of Nantucket, killing all 217 people are on board. The National Transportation Safety Board (NTSB) eventually claimed the incident had occurred after the co-pilot intentionally crashed the plane into the ocean, although Egyptian authorities disputed that conclusion later, saying the crash had been the result of a mechanical failure.
EgyptAir has seen many crashes in the last 44 years, three of which happened when the plane was attempting to land: in Yemen in 1972 (killing 42 people); in 1973 in Cyprus (killing 37 people on board); and during a flight from Cairo to Bangkok that crashed into an industrial building on landing. In the latter instance, not only did all 52 people on board die, 19 people on the ground were also killed.
While crews search the Mediterranean Sea for missing flight MS804 and the 66 people on board, hope for the flight begins to dim. Egyptian President Abdel Fattah al-Sisi has said that terrorism was a distinct possibility in the mysterious crash. Investigators believe that a bomb may have been planted at an earlier stop (possibly Tunisia) and detonated over the Mediterranean in Egyptian airspace.
Sadly, EgyptAir doesn't have a strong track record, but officials are working towards a brighter future, and doing whatever possible to help the families of the victims of EgyptAir flight MS804 get the information they need. It's been a decade since the last big crash — but unfortunately, that streak was broken this week in the most tragic way possible.