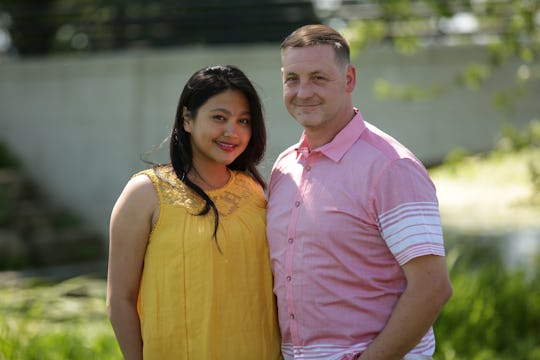 Courtesy of TLC
Eric's Job From '90 Day Fiance' Doesn't Live Up To Leida's Expectations At First
Leida left a lot behind when she moved to the United States to be with her fiancé, Eric. Based on social media, it seems like the 90 Day Fiancé couple is still together, though they got off to a rough start when Leida arrived in Wisconsin and stepped into Eric's dirty apartment. So for those as fixated on Eric's less-than-fabulous living quarters as Leida was, what is Eric from 90 Day Fiancé's job?
Eric works as an avionics technician in Baraboo, Wisconsin. An avionics technician focuses on the maintenance and repair of aircraft electronics, ranging from cables, antennas, and navigation to passenger entertainment systems and radios, according to Sokanu. However, Eric has not always been in the avionics field — he is also a retired armed forces member. In fact, it looks like he may have returned to the forces since getting together with Leida. In an Instagram post dated July 6, Leida wrote, "This is not a cosplay. He's getting back to the service. Come back soon, my love! Love you!" Next to the caption was a photo of Eric in his military uniform.
In addition to working as an avionics technician and his possible return to the army, Eric also keeps busy as a father of three.
While on a K-1 visa (which all 90 Day Fiancé immigrants are on for their first 90 days in the United States), it is technically possible to get a permit to work in the country. However, according to Nolo, U.S. Citizenship and Immigration Services typically takes 45 to 90 days to issue the permit. So, like most other 90 Day Fiancé stars, it's likely that Leida was unable to work during her first three months in Wisconsin.
And not working has definitely been a change of pace for her, considering her professional history. Back home in in Jakarta, Indonesia, Leida worked as a model, and she was also a medical school graduate. But when she met Eric via a personal ad he posted online, she was actually working in Japan as a teacher.
The 90 days have now passed, and it seems like Leida is still living with Eric in Wisconsin — which probably means they are married. It's unclear what Leida is doing career-wise at the moment, but hopefully she will share that information later this season or on Instagram. And like Eric, Leida is also a divorced single parent. She has one child, a 5-year-old son, Allessandro.
It's great to see on Instagram that Eric and Leida are still in love, because their relationship got off to a rocky start on 90 Day Fiancé. When she first arrived at his Baraboo apartment, she was shocked by the mess — and the size. "What the f*ck is this?" Leida says on 90 Day Fiancé when walking into Eric's apartment. "Why don't you just get maid?" However, Eric was not into that idea. "We're not getting a maid," he responds.
"Leida comes from a wealthy background, so I'm concerned the life I have here isn't enough for her," Eric says in a confessional. "If Eric doesn't have a lot of money, that would make me go back to Indonesia," Leida tells the cameras on the show.
By now, the couple must have worked out their disagreements regarding finances and their living space. Hopefully the rest of this season will shed more light on that.