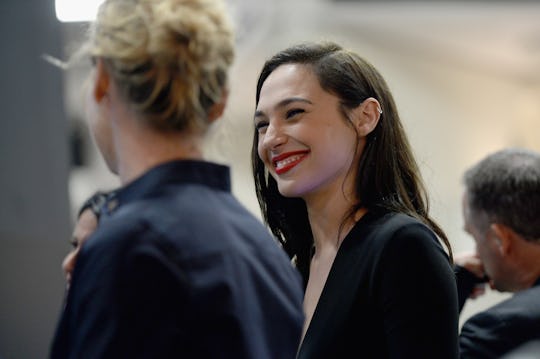 Charley Gallay/Getty Images Entertainment/Getty Images
Wonder Woman is Quite The Breadwinner
Wonder Woman has many skills and talents — and one of them just so happens to be earning power. With the success of her blockbuster release and her other movies, what is Gal Gadot's net worth these days? According to Celebrity Net Worth, the all-knowing website that calculates these sorts of things, the superhero is worth around $10 million. And the Israeli native is only just getting started.
Gadot was basically born to be Wonder Woman. Although she got her start as a model and the winner of the 2004 Miss Israel pageant (she competed in Miss Universe later that year), Gadot, like all Israeli citizens, spent two years in the Israeli Defense Forces. Makes sense that she's comfortable with a weapon or two, huh? She also personally owns a Ducati motorcycle, so her love all things fast was a perfect fit for the three Fast and the Furious movies she was in.
That Wonder Woman has earned $100 million at the box office already is great and everything. But the real reward has to be the fact that she's made her country super proud. In Tel Aviv, there's a huge billboard with her image and "We Love You" plastered on it for everyone to see. She's basically their new national treasure.
Not only is Gadot basically everywhere these days, she's also a superhero at home too: The actress gave birth to 6-year-old daughter Alma in 2011 and little 2-month-old Maya was born this past March. The Batman v. Superman: Dawn of Justice star was clearly ready to expand her family too, writing just before her due date on Instagram,
Today I had a moment with myself when I was looking out the window at the beautiful clear blue sky and realized that I'm 9 months (!!!) pregnant and soon will have a new lovepup as an addition to our family.
Being a role model for her daughters is important to Gadot, as it is to most moms. She told Glamour that she used to be be wary of traveling with Alma in tow, until her husband of 10 years, Yaron Varsono, convinced her not to stree over it. She said:
When Alma was around two, I was really anxious about how to travel with a child, moving her from one country to the other, all the different languages. It was my husband who told me: "Gal, think about what kind of a role model you want to be. If you want to show Alma that she can follow her dreams, that's what you should do, and we will figure out the logistics."
Sounds like the Gadot-Varsono household is all about empowerment. It's good to know that Wonder Woman walks the walk IRL. And of course, it doesn't hurt that she's raking in tons of money for her family, too.