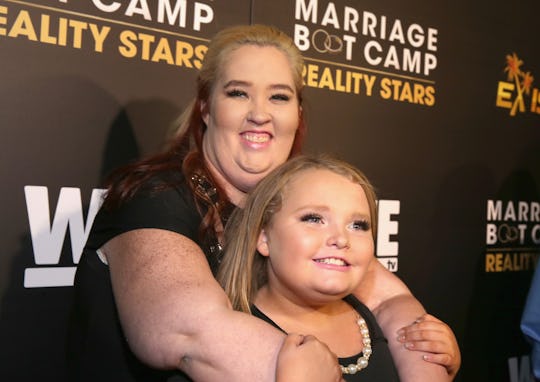 Jonathan Leibson/Getty Images Entertainment/Getty Images
Here's What Everyone's Favorite "Toddlers & Tiaras" Star Honey Boo Boo Is Up To Now
The world first met Alana Thompson, better known as Honey Boo Boo, when she was a 6-year-old child pageant queen stealing hearts on TLC's Toddlers & Tiaras in 2012. The Georgia native was such a hit that she earned her own reality show, Heres Comes Honey Boo Boo, soon after further endearing herself to audiences with catch phrases like her signature "A dolla makes me holla!" and the inventive "redneckognize." But the show ended after two seasons in 2014, and fans interested in what Honey Boo Boo is doing now may be surprised to know that her pageant days are officially behind her, and that she's a bit older and wiser than the sassy child she was at the height of her reality TV fame.
Heres Comes Honey Boo Boo fans may still see a curly-haired child with a devilish smile when they picture Alana, but she's been growing up during the time that she's been (relatively) out of the spotlight. She turned 12 in August, which is kind of hard to believe, and dedicated fans have been able to catch her on her mother's reality TV show. The second season of "Mama June" Shannon's WE tv chronicle of her extreme weight-loss journey, Mama June: From Not to Hot, will air in January. And it's mostly through Shannon — or the "Coupon Queen," as Honey Boo Boo fans know her — that fans catch glimpses of Alana's life now.
After all, she regularly posts photos of her daughter on her Instagram account:
Alana has surfaced in the media herself as well. In 2016, the OWN Network featured her on its Oprah: Where Are They Now? In the segment, she was poised and engaging as she showed off her prizes from her pageant days for the cameras, and also introspective when she revealed that she felt both sad and happy when TLC cancelled her show after two seasons. And about a year later, E! News caught up with the then-11-year-old to talk about what she had been up to lately. It turned out that, at the time at least, "Honey Boo Boo" had a boyfriend named Justin, according to E! News. She was (understandably) a little shy about the details, but she did tell her interviewer that her favorite thing about him was his personality
She's wasn't all shy preteen, though, as she answered a question about whether she thought her mom was jealous that she had a boyfriend with some typical Honey Boo Boo sass. "Probably, because her 11-year-old daughter has a boyfriend but she doesn't," she quipped, according to E! News.
And here's the Honey Boo Boo development that may be hardest to believe when you remember her as a 6-year-old pageant queen guzzling Mama June's questionable "go-go juice" (a mixture of Mountain Dew and Red Bull) before competitions: She's now an aunt! Just this month, Alana's 17-year-old sister, Lauryn "Pumpkin" Shannon, welcomed a baby girl with her fiancé of two years, according to E! News. Mama June, for her part, was quick to repost her daughter's Instagram announcement/pic of the new baby on her own account, so it's safe to say that the entire family is excited about this new addition. Of course, it will be pretty cool (and beyond surreal) to see the little girl that America came to know and love interact with a little baby niece.
All in all, there's no telling what's next for Alana Thompson, but she's shown that she has the talent and charisma to take the pageant scene and reality TV by storm. As she continues to grow up and mature, her life could go in a million different directions — and her longtime fans will surely be more than happy to go along for the ride.
Check out Romper's new video series, Romper's Doula Diaries:
Watch full episodes of Romper's Doula Diaries on Facebook Watch.