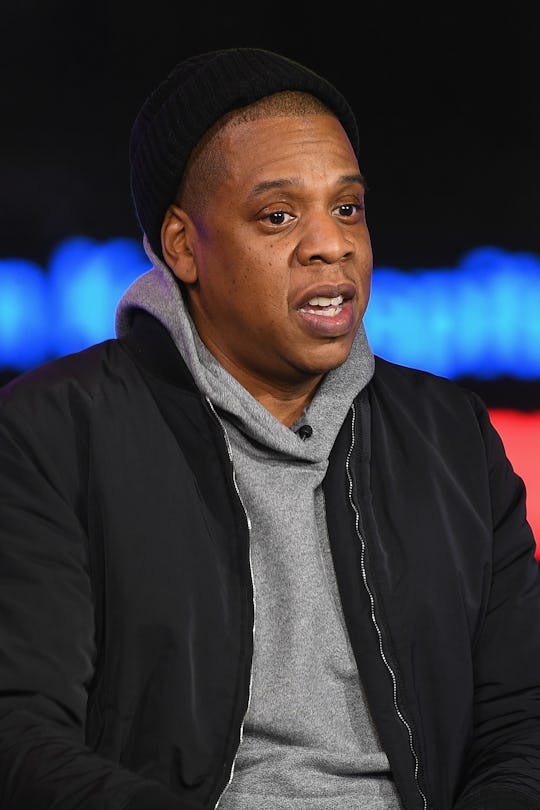 Dave Kotinsky/Getty Images Entertainment/Getty Images
It's Probably Safe To Say JAY-Z Is Doing Alright Financially
Jay Z just (reportedly) became a father of three, and so clearly he needs to start bringing in some coin. He's going to be the main breadwinner for a bit, now that wife Beyoncé has reportedly given birth to twins (a boy and a girl, in case you were without internet or sentient awareness of any kind for the past few days, and yes, nothing is official until the Queen herself says they're here, relax). To that end, the Grammy winning music mogul is dropping a new album, 4:44, later this month. Because Jay Z has to track his net worth now that there are some more mouths to feed in the Carter household, clearly.
Before anyone starts to panic that 5-year-old Blue Ivy and the wee Carter twins are in danger of starving, Jay Z has a nice little nest egg to keep his family secure — a nest egg to the tune of around $810 million, according to Forbes. The news outlet reported that, as of 2017, Jay Z was the second richest hip hop artist in the world, although the bulk of his money didn't actually come from making music.
Jay Z has a diversified business portfolio including a sports management company (Roc Nation Sports), record company (Roc Nation), endorsements, real estate, and the streaming service Tidal (into which Sprint sank $200 million in January 2017).
Now that Jay Z is finally ready to drop his 13th studio album, money probably won't be an issue. All of his other 12 studio albums have gone platinum, and 4:44 is set to be released alongside a movie starring Moonlight's Mahershala Ali, Star Wars: The Force Awakens' Lupita Nyong'o, and Lethal Weapon's Danny Glover. The album will be released as a Tidal exclusive, naturally, which means Jay Z plans to do a little double dipping since he owns a stake in the streaming service. But guys, he has a family to worry about. So it's totally fair.
So let's just say, for argument's sake, that 4:44 does not become a huge hit (it will, relax, I'm just throwing around ideas here). What will Bey and her new Bey-bies do?
Well, it turns out the Carter clan also has a pretty amazing house, complete with 12 bedrooms, a screening room, and a bowling alley, worth over $40 million. So that should give them a little peace of mind.
Not to mention the fact that Queen Bey has a pretty serious earning potential herself, being Queen of All Things and such. Between the two of them, the Carters are reportedly worth more than $1 billion, according to Fortune.
So everything should be just fine. Jay Z can relax and just enjoy being a billionaire, a husband, and a dad, no net worth-stress necessary.