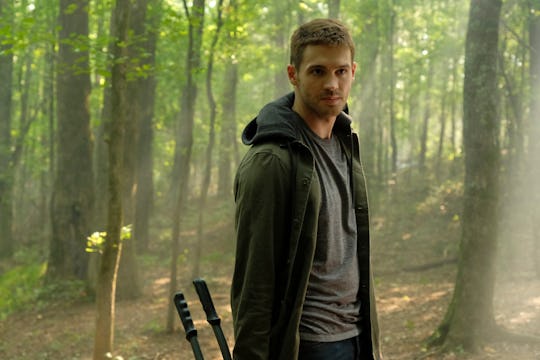 Mark Hill/The CW
Jeremy Gilbert Returns To Mystic Falls On CW's 'Legacies'
For fans of The Vampire Diaries, the CW's new spin-off series, Legacies, feels like a family reunion. Following a new generation of supernatural teens, the show is taking viewers back to Mystic Falls, and will also bring back a few familiar faces. Elena Gilbert's adorable little brother Jeremy is set to return to his hometown, but because he's a supernatural hunter at his core, fans want to know, what is Jeremy doing on Legacies?
Legacies started the series by introducing viewers to Alaric (Matt Davis) and Caroline's (Candace King) new school for supernatural kids — The Salvatore School for the Young and Gifted. When fans last saw Jeremy (Steven R. McQueen) in the series finale of TVD, he had returned to Mystic Falls to join the school as a teacher. So far, Legacies has introduced its students — including Hope Mikaelson (Danielle Rose Russell) and Lizzie (Jenny Boyd) and Josie (Kaylee Bryant) Saltzman — and it's faculty, but Jeremy has yet to make an appearance. Luckily, according to TV Line, fans will reunite with Jeremy in the series' third episode, where he will be seen interacting with the students in some capacity.
In an interview with TV Line, the writer and producer of Legacies, Julie Plec (also the creator of the TVD franchise) revealed that Jeremy will be tasked with handling things outside of the school, and be a friend that Alaric can count on as the series continues. "When we last saw Jeremy, he was lending a helping hand at the boarding school," said Plec. "Now he's someone out in the field, someone Ric can rely on if things take a turn outside the walls of the school."
What he'll be doing outside the school is still unclear, but it may have to do with keeping the students in check. "As punishment for breaking the rules, Hope, Lizzie, Josie and MG are forced to participate in a community service project in the Mystic Falls town square," reads the official synopsis for Episode 3. Considering Jeremy is outside of the school, it could be possible that he is tasked with overseeing the students' community service, while he makes sure they keep their supernatural sides and powers hidden from the town.
It'll be nice to see Jeremy back in Mystic Falls, but I'm hoping he sticks around this time. When McQueen left TVD in Season 6, Jeremy was written off the show, and fans were told his character went off to "find himself." Fans (like me) were heartbroken to see Jeremy leave, but his brief return on the TVD season finale did help give his story line some closure.
Jeremy is not a normal mortal. On TVD, he turned out to be a "Hunter," which made him part of the Brotherhood of the Five, an elite group of vampire hunters that can sense a vampire from miles away. With his return to Mystic Falls on Legacies, it would be awesome to see his Hunter powers play a part in the story line, and see if they stay in check while dealing with the supernatural kids from the school. It will also be nice to get the deets on Jeremy's life since the finale, and maybe even get an inkling of what Elena and Damon are up to these days. But Jeremy isn't the only TVD regular to return on Legacies. Along with Alaric and Jeremy, Matt Donovan (Zach Roerig) is returning as the Sheriff of Mystic Falls, and he's already made his debut in Episode 2. Caroline's presence is felt in the first few episodes, and while the showrunner has left the door open for her return, there's no official news of any upcoming appearances on the series.
While his exact role in Legacies has yet to be seen, for fans of TVD, seeing Jeremy getting back into the supernatural thick of things will be an awesome blast from the past.
New episodes of Legacies air on Thursdays at 9 p.m. ET on The CW.