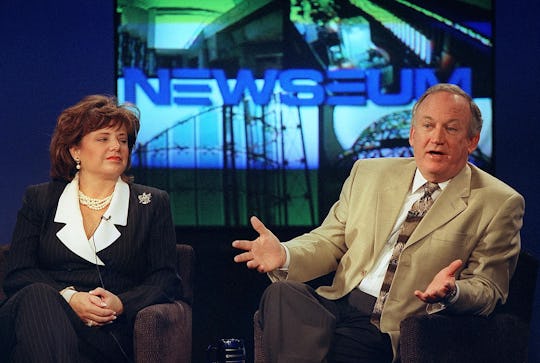 MARIO TAMA/AFP/Getty Images
What Is John Bennett Ramsey's Net Worth? The Family Was Once Financially Comfortable
A new docu-series covering the 1996 murder of 6-year-old JonBenét Ramsey, The Case of JonBenét Ramsey, will air on Sept. 18 on CBS. Ramsey's death was a disturbing and horrific incident back in the 1990s and now, similar to the revival of the Steven Avery murder trial covered in Netflix's Making a Murderer, CBS will re-tell Ramsey's unsolved murder case, in the hopes that re-opening it might help spur on a new investigation. In preparation for the new series, some are refreshing their memories on the details of the case, or introducing themselves to the case for the first time; so it makes sense that, years later, many may be wondering what John Ramsey's net worth is, what happened to the couple after JonBenét's death, and where John himself is today.
They were once a very wealthy family living in Boulder, Colorado, happily living with their children in peace, before the worst happened. Although the John and Patsy Ramsey were once under investigation following Ramsey's death, they were never charged with a crime. Both were exonerated in 2008 following DNA tests. The Ramseys' lawyer issued the following statement to Romper:
The Boulder District Attorney, Mary Lacy, publicly exonerated [John and Patsy Ramsey] in 2008 based on irrefutable DNA evidence. She apologized to the family and assured them that in the future, they would be correctly treated as victims. The days of Ramsey accusations should have ended then and there.
John and Patsy Ramsey had undoubtedly been through a lot – their daughter's unsolved murder and the highly-publicized police investigations that followed didn't help either. In a recent interview with Dr. Phil, brother Burke Ramsey, who was 9 years old when his sister died, said that the media made his family's lives "crazy."
So how did all the chaos affect John and the Ramsey family, outside of the obvious emotional trauma? In 1997, a People article revealed that the couple's Boulder home was worth $1 million. According to the article, John Ramsey owned a corporate jet, and started a computer-equipment manufacturing company in the 1970s. He later became the president and CEO of his company's merger, and built sales from $150 million in 1991 to $1 billion in 1996, People reported.
However, after his daughter's murder, John revealed that the incident unsurprisingly impacted his professional work and, potentially, his net worth. Interviews and reports from his book, The Other Side Of Suffering, suggested that his financial status subsequently took significant hits.
A 2008 Daily Beast report revealed that John had sold his company, homes, cars, boats, and was reportedly living on his savings. What's more, the Daily Beast also reported that the negative press surrounding the Ramsey family, made significant impacts on John's professional relationships: In an ABC News report on John Ramsey's book, the father reportedly revealed that he's learned to adapt to down-sizing., though the report didn't elaborate on specifics.
But above all, John Ramsey told ABC News that beyond battling an irreparable reputation in professional circles, his biggest regret with the police investigations is that the real murderer got away. "If we find this killer, and there had been other children murdered, I lay the blame squarely on the Boulder police," he told ABC News. Boulder police declined to comment on any articles related to the renewed case.
Ramsey's unsolved murder mystery, 20 years later, continues to be a horrific story. Unfortunately for those who loved her, it seems the heartache and fallout continued for years.