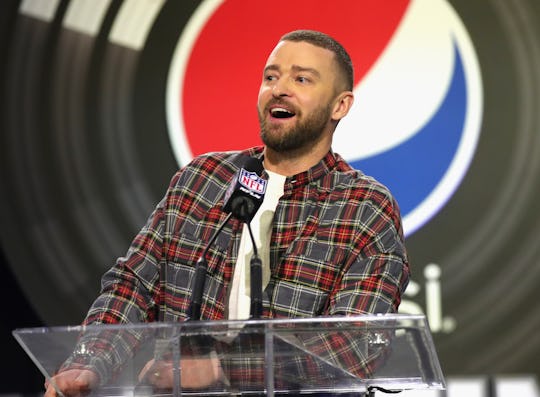 Christopher Polk/Getty Images Entertainment/Getty Images
Justin Timberlake's Net Worth Will Make Your Jaw Drop
Do me a favor: close your eyes and try to remember a time before Justin Timberlake was famous. I'm probably older than you (I know, I totally don't look it), and even I am struggling to remember life pre-*NSYNC. Justin Timberlake has managed not only to stay famous, but to stay somewhat relevant for the past 23 years. And I'm not even technically counting his time as a Mouseketeer, for pete's sake. The man has been famous for so many reasons for so long it makes a girl wonder what Justin Timberlake's net worth might be. Not for me, of course. Asking for a friend.
So far, 2018 has been a good year for Timberlake and we're only one month in. The 37-year-old Grammy award-winning singer just released another album, Man In The Woods, and the first single "Filthy" is already snaking its way up the charts. He's also set to perform at Sunday's half-time show for the Super Bowl at the U.S. Bank Stadium in Minneapolis, Minnesota. This marks the first time Timberlake will perform for the football crowd since the infamous "Nipplegate" of 2004. In case you don't remember, that's when Janet Jackson nipple was kinda-sorta exposed as Timberlake pulled part of her outfit during a live performance and everyone lost their minds.
Timberlake came through Nipplegate relatively unscathed, and has gone on to have one hell of a career so far. Actually, he's had several amazing careers along the way, and his bank account proves it. Celebrity Net Worth reports that Timberlake is worth more than $250 million. In 2015, he was named the 19th highest-paid celebrity in Hollywood by Forbes magazine. So where does all that money come from, you ask? It's not just from being a retired Mouseketeer, I can tell you that much.
Music
Timberlake has won 10 Grammy Awards between his time with *NSYNC (which disbanded back in 2000) and his red-hot solo career. As of 2014, he was named the third-highest paid musician after his third studio album 20/20 was released in 2013, earning more than $31 million. He's enjoyed successful musical collaborations over the years with everyone from Madonna, Snoop Dogg, 50 Cent, and even Queen Bey herself.
Movies
It's not always an especially smooth transition for musicians to jump the shark and try their hand at movies, but Timberlake seems to have done pretty well for himself. He's done it all; tried his hand at a little voice acting for animated movies, notably in Shrek the Third and Trolls, where he double-dipped and created the hit song "Can't Stop The Feeling" for the soundtrack. He also managed to star in eight movies in three years between 2010 to 2013, more than even Meryl Streep or Tom Cruise at that time. Those paychecks would have helped keep him in fitted vests for awhile, not to mention all of those sweet Saturday Night Live visits.
Business Ventures
Timberlake has his own tequila, Justin Timberlake's 901 Silver Tequila. He also has his own clothing brand, William Rast, and is part owner of an audio tech company, After Master. In other words, he's making it rain money.
Endorsements
When he's not making beautiful music, acting, killing it in the world of business, or spending time with wife Jessica Biel and 2-year-old son Silas Randall, Timberlake manages to squeeze in a little endorsement time. He was the face for Givenchy back in the late 2000s, and he was named the Creative Director for Bud Light Platinum as of 2013.
So when Timberlake shows up to perform at the half-time show on Sunday night, one thing seems pretty clear; he's not doing it because he needs the money.
Check out Romper's new video series, Romper's Doula Diaries:
Watch full episodes of Romper's Doula Diaries on Facebook Watch.