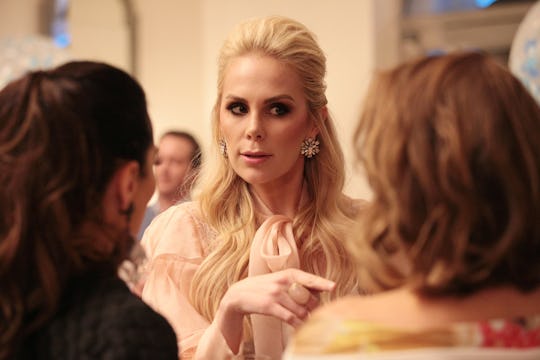 Peter Larsen/Bravo
Kameron Westcott's Career Is A Struggle For Her Family
On the Real Housewives of Dallas, fans watched Kameron Westcott attempt to break into entrepreneurship after years spent as a stay at home mom. And while her pink dog food idea didn't at first seem like the most serious of business ventures, it quickly became apparent that the stakes were very high for her. So fans might be wondering: what is Kameron Westcott's job? Sparkle Dog is a huge focus, but Kameron reminds viewers on the show that being a Westcott wife is expected to be one's full-time job.
A big part of Kameron's storyline this season has been watching her bump up against the expectations of being a Westcott — a family she married into. Kameron met her husband Court, heir to a Dallas old money dynasty, while she was pursuing a Fine Arts degree at Southern Methodist University. He was there as a graduate student earning his MBA. The pair began dating and not long after got married. But as Kameron has explained this season (and last), Westcott women are expected to raise the Westcott children and pursue philanthropy, not work real jobs, build personal businesses, or have careers. And for the first time, Kameron is starting to feel some friction with the status quo.
According to her personal website, she's clearly held up the philanthropy end of the marrying-a-Westcott deal:
Kameron is an 8 year active member of Cattle Barons Ball and 9 year active member of Junior League of Dallas, serves on the council for Texas Ballet Theatre, and is a member at large for New Friends New Life Board. In 2008 she was a style Ambassador for Diffa Dallas...In 2015 she chaired the TuTu Chic Luncheon benefitting Texas Ballet Theatre, and chaired March Of Dimes Signature Chefs Gala in 2016.
But before marrying Court, Kameron worked as a hand-made dog clothing designer, launching a brand called BabyLou Pooch Couture. It's clear from her Sparkle Dog aspirations that Kameron is interested in getting back to a career now that her kids, Hilton and Cruise, are a little bit older. But she's getting a lot of resistance from the family.
Sparkle Dog at first seemed like a little bit of a joke on the show, but dig a little deeper and it's obvious that a lot of care went into the brand. It's a soy, wheat, gluten, and grain-free organic dog food made locally in Texas, with a portion of its proceeds going to the Susan G. Komen Foundation. Kameron's girly packaging isn't just an homage to her personal love of pink; she aims to market the product toward the women who are actually stuck with the work of schlepping out to the store every day to buy it. Of course dogs don't care about having pink food; it's a gesture toward their caretakers.
Kam never gets a chance to delve into her mission on the show, largely because she plays up the self-described "dumb blonde" image to get ahead — as much as the show uses it to sell her as an entertaining cast member. But her claims that she's a lot deeper than she looks actually seem to be true in this case.