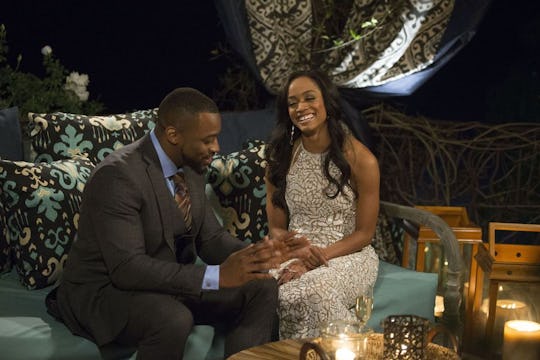 Paul Hebert/ABC
Kenny From 'The Bachelorette' Still Keeps In Contact With Contestants
Regardless of whether your Team Lee or Team Kenny in all of the drama the two contestants managed to strike up in the short time the show has been on this season, their upcoming two-on-one date with Rachel is going to be the deciding factor in who goes and who stays. But even if he lives to fight for love another day, what is Kenny from The Bachelorette doing now that filming is over? Considering his genuinely kind demeanor, fans will understandably be interested in what he's been up to.
Kenny has made some friends on the show, so even if he doesn't end up winning that final rose and the chance to propose to Rachel, at least he walked away with some kind of lasting relationship nonetheless. Apparently, Kenny and Adam (you know, the guy with the doll version of himself hanging around the house) watched The Bachelorette season premiere at Kenny's house with his daughter.
Iggy also commented on a photo of Kenny's daughter with "You know she got like 5 more uncles now," so maybe they were all lucky enough to develop a bona fide bromance while in the Bachelor Mansion, even if some of them didn't manage to get as far as they wanted with Rachel. Kenny's also been spending a lot of time with his 10-year-old daughter, continuing to be the cutest dad ever.
Rachel's upcoming two-on-one date with both Kenny and Lee means that one half of the feuding duo will be sent home, but there's still the off chance that Rachel could be done with both of them and wash her hands of the whole situation by sending them both packing. Luckily, even if that happens, Kenny has a busy life at home and since The Bachelorette, he seems to have kept busy being a dad and also spending time with his newfound Bachelorette BFFs.
Kenny's user history on both Twitter and Instagram has him posting up until the beginning of March and then starting back up again at the beginning of May, so he likely lasts long this season. Or, he was told to keep silent on social media until filming was completed overall.
Since filming of The Bachelorette ended, Kenny seems like he's kept a good sense of humor about the whole experience though, making fun of himself after both the mud wrestling competition and the spelling bee date. It definitely makes you hope that Kenny has the chance to go further than the two-on-one date with Lee this season. He deserves a chance to win her heart.