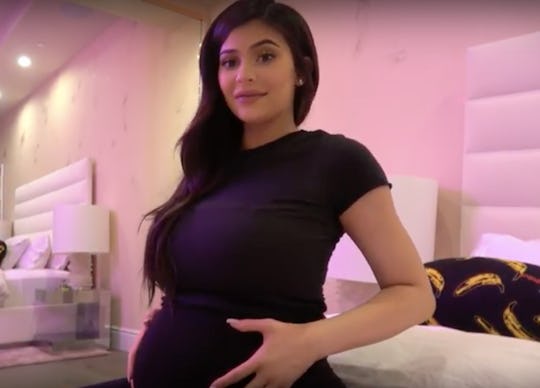 Kylie Jenner/YouTube
Kylie Jenner's Baby's Net Worth Will Make Your Jaw Drop
Now that Kylie Jenner has officially announced the birth of her daughter, there are so many details all of us fans want to know. We were starved for information for nine whole months, so apologies to the new mom, but we have questions! Forget the name or cute little anecdote about her naps, what I really want to know is what Kylie Jenner's baby's net worth is. You know, the important stuff that most definitely will affect my life. (Hey, a woman can dream, right?)
Kylie and Travis Scott aren't married, so there's not a combined family income that the couple will pass down. But both parents make quite a bit of money, which means that their baby girl will basically be set for life. At 20 years old, Kylie is one of the highest earning young celebs, according to Forbes.
Overall, she has a combined net worth of about $50 million, according to TIME, so all those cute baby clothes and sneakers you see in the video are not a problem. She makes most of her money with Kylie Cosmetics, which her mom Kris Jenner told Women's Wear Daily, raked in a whopping $420 million last year. Kylie also makes money from her deal with Puma, her clothing line with Kendall, and her television shows.
Scott makes significantly less money and also spends a ton, according to Yahoo Finance. By their calculations, he's worth about a total of $8 million from his tours and endorsements with brands, such as the high-end label Ksubi and Nike.
W Magazine reported last year that the Kardashian and Jenner family was worried about how Scott would adapt to all of the responsibilities of being a new father. Anonymous sources reported that Kanye West even sat down with the 25-year-old rapper. "Kanye had a serious man to man talk with Travis about becoming a father at the Christmas party this week," the source reported. They added:
It was an emotional conversation as Kanye explained to Travis how wonderful it is becoming a father for the first time, how his whole life is about to change for the better. [...] Kanye made it clear to Travis that he needs to step it up big time. Kanye is protective of all of his family and wanted Travis to know that he better not let Kylie down in anyway once the baby arrives, 'cause Kanye will be watching.
According to the same source, Kim was all up in the couple's business, even insisting that Scott lessen up on tour and spend more time traveling to be with a pregnant Kylie. According to W Magazine, the source explained:
Kim has made several comments to Travis recently about how he needs to fly right back from Miami to be with her sister. He hasn't said either way if he'll do it. He's being pulled in two directions right now because his boys all want him to party with them after the show.
However, assuming that Kylie and Travis were fighting and not ready for this baby might have been just mean gossip. In the pregnancy reveal video, there's tons of footage of the two of them together, and not just snuggling and holding hands on the beach.
According to scenes in the video, Travis was at doctors' appointments and Kylie spent the holidays with his family. During the actual birth of the baby, it appears that Scott's family was in the delivery room (or at least close by), too. From the looks of it, these two are very committed to each other and their baby girl.
You can't predict how parenthood will change you, but Kylie and Travis are in the very lucky position of being able to provide their daughter with everything she needs and wants, without having to worry too much about it. And even if they weren't, she's obviously surrounded by tons of love.
Check out Romper's new video series, Romper's Doula Diaries:
Watch full episodes of Romper's Doula Diaries on Facebook Watch.