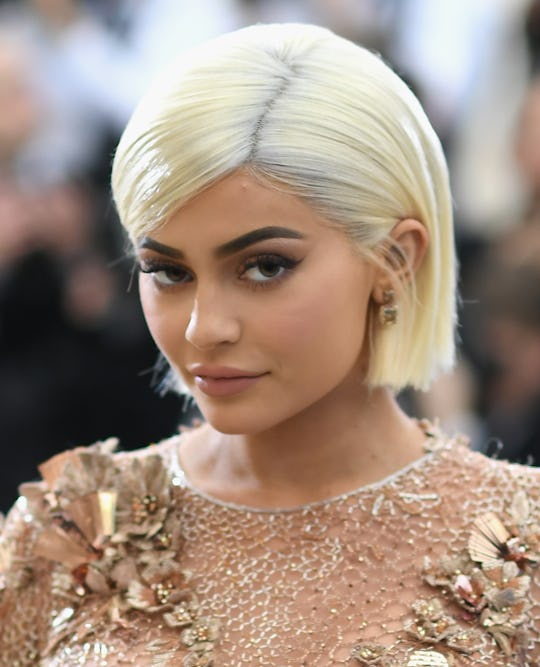 Dimitrios Kambouris/Getty Images Entertainment/Getty Images
In Honor Of Kylie Jenner's 21st Birthday, Here Are 8 Ways She's A Total Leo
Kylie Jenner turns 21 on Friday and she's already been celebrating for at least a week. On social media, at any rate. The new mom and almost-billionaire has been having a blast promoting her new Kylie Cosmetics line and sharing new snaps of baby Stormi, really just soaking up all of that gorgeous attention. Which is totally such a Leo kind of thing to do, right? In fact, I can think of at least eight ways that Kylie Jenner is such a Leo it's hilarious.
The new mom is making a really big deal out of her birthday this year, and can you blame her? She's only 21 and already she's lived, like, 10 lives. First as a little kid on Keeping Up With The Kardashians (can you believe she was just 10 when the show started?), then as a rebellious teen dating a much older man with a child, rapper Tyga. These days, she's a new mom and a seriously successful businesswoman in her own right with a huge following on social media. She and boyfriend, rapper Travis Scott, welcomed baby girl Stormi Webster on Feb. 1. Then there's her business; Kylie Cosmetics is on track to make Kylie a billionaire in the near future, according to Forbes. Which is good news, especially considering she's a Leo.
Loves To Treat Herself
Kylie Jenner comes from an incredibly wealthy family, of course. But she needs to work extra hard to pay for all of the luxuries in her life; the cars, the clothes, jewelry, and even the house she bought herself when she was just 18. This is a pretty well-known character trait of a Leo... they like the finer things in life.
Get A Load Of That Mane
Leos also love to look good, and their mane of hair is especially important to them, according to Astro Style. Kylie is a real chameleon when it comes to her hair, changing up the color and style on the regular. But it always looks amazing.
The Life Of The Party
Kylie is clearly excited about her birthday, and not just because Leos love to be the center of attention. She also loves a really good party, according to Mercury News, like all the other Leos out there. Leos tend to be difficult to resist and super charming, according to Astrology Zodiac Signs, and Kylie is obviously no exception.
No Second Prize
So we are heading into rumor territory here, guys; be wary. There have been reports in the past that Kylie can be a little jealous sometimes, especially of older sister Kendall, according to The Daily Mail. But don't go judging her; Leos hate being second best at anything, according to Leo Problems, and if they feel like they're not as good as someone else, they tend to get a little jealous.
Travel The World
During Season 1 of Life Of Kylie, the young Lip Kit mogul traveled to Peru to help kids with cleft palates. Which brings together two of the better Leo qualities; they love to travel, and they are filled with compassion, according to Astrology Zodiac Signs.
Stubborn As A Mule (Not The Shoe)
We all remember those months when Kylie Jenner and the rest of her family refused to admit that she was pregnant. According to a source close to the family, as MTV reported, Kylie is sort of famously stubborn and wouldn't budge on the issue. Another Leo trait, apparently; although to be fair, if she wanted to keep her pregnancy a secret, that was totally her right.
High Achiever
In a family full of high achievers (they were raised by momager Kris Jenner, after all), Kylie stands out as a serious go-getter. A savvy businesswoman and social media influencer with more than 110 million followers on Instagram alone. This is pure Leo, the sign of the "natural born leader," according to Zodiac Fire.
Protective Mama Lion
Ever since giving birth to Stormi, Kylie has made it clear that she won't put up with anyone saying a negative word about her daughter; she even stopped sharing her picture on social media in June after some negative comments. As the sign of the lion, Leos are fiercely protective of the people they love, according to Zodiac Fire.
In other words... maybe don't mess with Leos. Especially when they're trying to enjoy their birthday month.