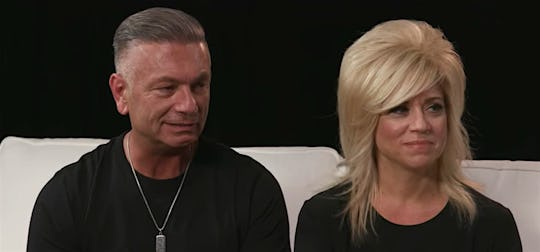 TLC
Larry Caputo's Net Worth May Surprise Some 'Long Island Medium' Fans
Theresa and Larry Caputo split at the end of 2017, and now the Long Island Medium couple are living on separate coasts. Since Theresa is the star of the show, how does this fare for Larry financially? What is Larry Caputo's net worth? While he may not be the famous medium, he's still got a chunk of change from the reality show.
The Caputo's met long before they shared their lives with millions of people on TLC. According to Theresa's book, There's More to Life Than This, she saw a psychic who told her she was going to meet an older man with a mustache. Even though Theresa deals with the supernatural on her own, she was unsure about this — she didn't even like facial hair! But sure enough, the pair met when Theresa was working at Larry's family's oil company. He was 11 years older than her and had a mustache (along with a mullet because it was the 80s). Two years later, they were married.
However, after almost three decades as husband and wife, Theresa and Larry separated at the end of last year. In a joint statement released to People they said, "After 28 years of marriage, we have decided to legally separate. We will always love each other and our two wonderful children. We are united in supporting each other and our family. Please respect our privacy during this time."
Theresa and Larry didn't shy away from showing their marital troubles on the show. While I'm obviously a third party and have no idea what went on behind the scenes, it seems that there wasn't one event that caused the split; rather, it was tension and frustration building over a long period of time. In a Long Island Medium episode that aired in November — around a week before the announcement — Theresa revealed that the two had been feeling distant.
"I sometimes interpret it as growing apart," she said, according to People's coverage of the split. "I've changed and he has changed. We're both not happy and, you know, it's hard to try to work through that." She continued, "It's not easy for me to sit here and to talk about this, to talk about my feelings, to talk about how my marriage is, but you know, things do change."
Larry, too, opened up about what went wrong with their marriage. "I think a lot of the frustration has to do with us not spending the time together anymore," he told his friend, Danny, in an episode that aired right after the announcement. "Along with that comes the lack of communication, so it's like losing your best friend. It's hard."
It seems that Long Island Medium put a strain on the two — but it's the reason for a lot of the couple's success (I don't think being a medium is usually a super lucrative career). Theresa's net worth was reportedly $3 million at the end of 2017. While she apparently doesn't take money for readings, she does have money from the show as well as benefits from the exposure: she's able to put on a touring live show and she's a New York Times bestselling author.
What about Larry, though? According to Celebrity Net Worth, Larry Caputo's net worth is $3 million. Now, I don't know if that's a coincidence or if he and Theresa had split the profits from the show and Theresa's business. There's also no information about how the split has affected their financial situation. These details may come out later, but no matter the outcome I'm sure they will both be fine in terms of money. I'm sure neither of them will have to go back to Larry's family's oil company (and that's probably for the best, anyway).