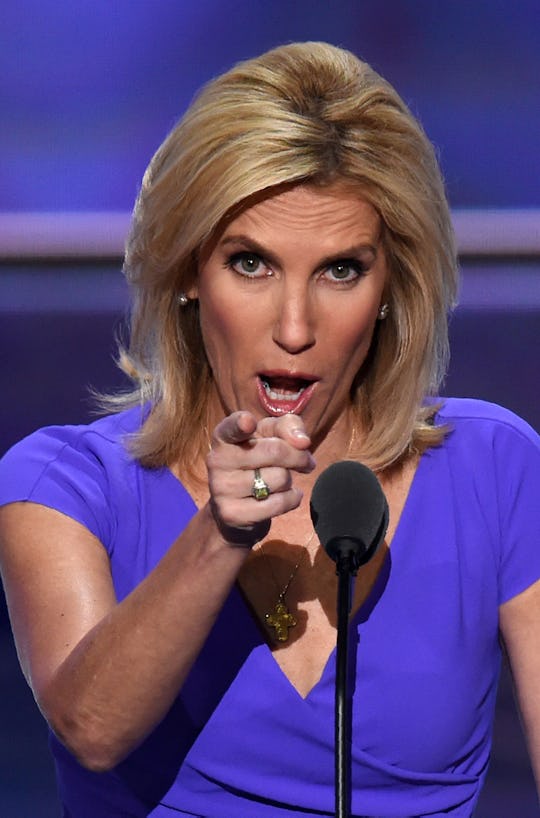 TIMOTHY A. CLARY/AFP/Getty Images
What Is Laura Ingraham's Political Background? She May Be Trump's Press Secretary
The Trump transition team is in full swing staffing the president-elect's merry band of Cabinet members and advisor positions. The latest rumor is that Trump may have found a secretary in Laura Ingraham. Already we know about the political leanings of Reince Preibus, Trump's Chief of Staff, and Steve Bannon, who will serve as a chief strategist. So what is Laura Ingraham's political background? If she's going to be part of a team comprised of the conservative Preibus and the white nationalist Bannon, it's safe to assume that other members will lean to the right.
Ingraham definitely fits the bill. She's a conservative talk radio host, Fox News contributor, and an author of books such as The Hillary Trap, The Obama Diaries, and Power to the People. Oh, she also runs a lifestyle site called LifeZette, with headlines like "Trump Already Winning America" on the homepage as of press time. So, yea, it's safe to say she'll get along with the #TrumpSquad.
Ingraham helped Trump prepare for the debates and also pumped him up on her radio show. When asked about whether she would take the job, Ingraham said on Fox News Monday, "It's a big decision, but I'm at the point where, if my country needs me, and if I can do something to actually, you know, advance the Trump agenda, which is stuff I have written about now for 15 years, with trade, immigration and just renewing America, then I obviously have to seriously consider that."
You heard it from her first — she's been on the Trump agenda before Trump even knew he had an agenda. Ingraham added though that some people might be getting "ahead of the narrative" as there are other rumored candidates such as David Martosko, the U.S. political editor for The Daily Mail.
Ingraham is pretty vocal about her opinions and adamant that there is a serious left wing media bias. She tweeted the other day about a CNN story, "typical left-wing smear job. So lame. The campaign team that beat the Clintons, Obamas & Bushes was and is stellar."
Already, the White House press corps have a hard time getting any questions in to the press secretary — even under President Obama. Given Trump's distaste for journalists that he thinks disagree with him, his actual bullying of NBC News reporter Katy Tur, and the fact that his supporters wear shirts that suggest hanging journalists, it's hard to imagine the press briefings of a Trump administration. When you add a vocal, politically active press secretary, it might be near impossible for certain organizations to even get a press credential.
Of course, it's way to soon to start worrying about the fourth estate under Trump (or is it?). Maybe Ingraham is right and everyone should wait and see. Remember, the salary is only $176,000 so it might be hard to take her (or anyone else) away from her other gigs.