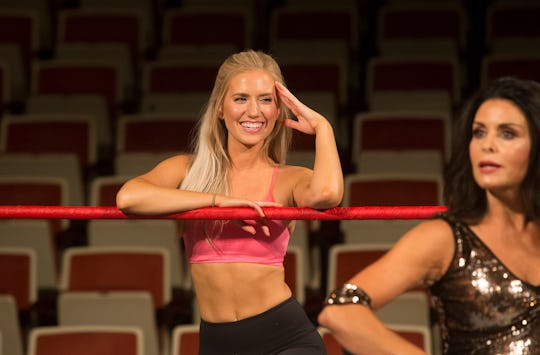 Paul Hebert/ABC
Why Lauren B. Might Be This 'Bachelor' Season's Dark Horse
Every season of The Bachelor seems to have one contestant who flies under the radar in the early days and then all of a sudden, she's among the final few left and you find yourself at hometowns wondering, who is this person? Lauren B. seems on track to be that contestant this season, so fans are understandably wondering more about her, like, for instance, what is Lauren B.'s job? Well, the Dallas-based 25-year-old works in tech sales but she's also a volunteer EMT.
Lauren B. has the distinct honor of being the last Lauren left standing in a season of not one, two, or even three, but four Laurens. Fun fact: if she happened to get a proposal in the end, she would also be the second Lauren B. to receive the final rose (Lauren Bushnell, who also needed the second initial to differentiate from another Lauren on her season, won Ben Higgins' season of The Bachelor). If things do indeed play out this way, it's my hope that she begins to stylize her name Lauren B. II. We didn't get to see much of her early on in a season that's mostly been dominated by villains, rivalries, and age gap scandals. But all of a sudden, she and Arie seem to be clicking. It really feels like Lauren could sail into hometowns and make it to the end while the rest of us are distracted by Krystal's tantrums, Bekah's refreshing and youthful wisdom, and Chelsea's eyes-on-the-prize laser focus.
According to her LinkedIn profile, Lauren has been working in tech sales in the Dallas-Fort Worth area for about a year. Prior to that, she worked in marketing, co-founded a home staging and design company, and worked in various positions throughout the medical industry. It seems like medicine was her first career goal, having done a year of pre-med in college before switching her major to psychology and graduating with a bachelor of science degree. She worked as an EMT for three years, where her duties included driving ambulances and working on patients as a first responder. During that time, she also worked as a home health aide for children with special needs for nearly five years, teaching skills like money management, hygiene, nutrition, and exercise, and helping with schoolwork.
A ton of Lauren's work experience overlaps in the same time frame, which means she's no stranger to a side hustle. This might help her adapt to figuring out a career trajectory, should she have to pick up from Dallas and move to Scottsdale to join Arie in his very settled life. (He's said before that he wants a flexible mate above all, who'd be willing to relocate to Arizona where he owns a home and is licensed to practice real estate.)
Lauren B. and Arie haven't had a one-on-one date yet, but after opening up to him during a cocktail party and demonstrating ~vulnerability~, Arie gave her the group date rose in Week 5. It doesn't seem like they've had a big bonding moment yet, but Lauren seems to be forging a path forward in their relationship by taking baby steps.
It may be a testament to how much Arie likes her that she hasn't gotten a one-on-one yet: he may feel so certain about their connection that he would rather weed out people he's on the fence about first and circle back to deepen his connection with Lauren later on in the season. Of course, we've seen this backfire many times before, but for now, Lauren seems to be in a strong position.
Check out Romper's new video series, Romper's Doula Diaries:
Watch full episodes of Romper's Doula Diaries on Facebook Watch.