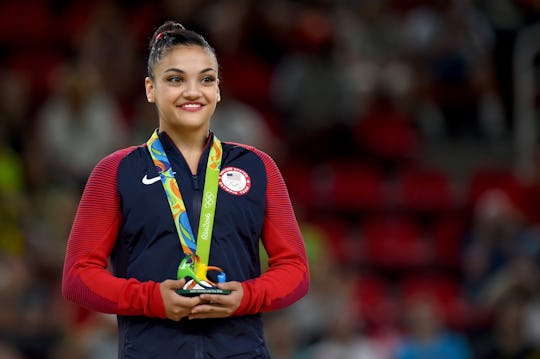 Laurence Griffiths/Getty
What Is Laurie Hernandez's Net Worth? The Olympic Gymnast Is Doing Well
She may not be old enough yet to drink or vote, but 16-year-old Olympic gymnast and favorite to win this season on Dancing With the Stars, Laurie Hernandez is doing pretty okay in her life. In fact, financially this young star is more secure than most adults. So what is Laurie Hernandez's net worth? I'll tell you it's more than you're probably expecting it to be.
Blogs like The Net Worth and Celebrity Net Worth (which are not always reliable sources, it's true) estimate Laurie's net worth to be around $2 million. When I was 16 years old, I felt like a Rockefellar making $9 per hour after school, and now I'm just re-evaluating all of my life choices. The homeschooled teen has dedicated her life to her athletic career and it has obviously paid off. She may never have been able to go to her prom, but she'll probably miss out on some other, less savory rites of passages as well — like that 6-month long ramen, rice, and coffee diet in college or living in a shoebox apartment right after graduation. Basically, all of Laurie's hard work has already paid off in a big way. At this point, even if she decides she wants to quit gymnastics forever and devote her life to pottery instead, she's got the means to do it.
Of course, I'd be very surprised if Laurie ever did quit gymnastics, especially after all the years of work she poured into it. Laurie started taking gymnastics lessons at age 5 after becoming bored with ballet (go figure). Since then, she's been working with her coach Maggie Haney toward her ultimate Olympic goal for the past ten years. She's remained focused and dedicated, even when an injury threatened to derail her entire career when she was 14.
Born in New Brunswick, New Jersey in 2000 as the youngest of three siblings, Laurie's upbringing has been anything but normal. Since she was a tiny little girl she's been working towards stardom, and sees a third parent in Haney, her coach. But of course, Laurie's work ethic isn't the only thing that's making her a star. Her exuberance and jovial personality have earned her the nickname the "human emoji." And that zest for life comes across just as much in the ballroom as in the gym. So keep up the great work, girl. You deserve it!