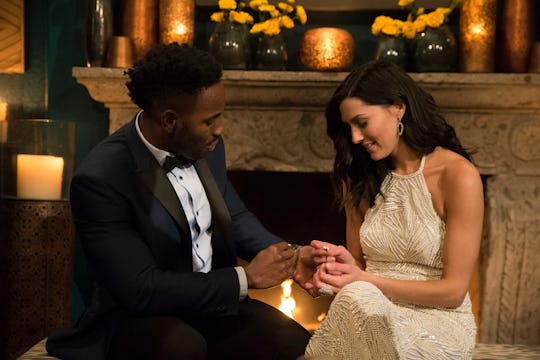 Paul Hebert/ABC
What Is Lincoln's Job? 'The Bachelorette' Suitor Already Has Fans Swooning
Bachelor Nation was pretty lit up earlier this year when Becca got her heart broken on national television. So when Lincoln walked out on After The Final Rose and called Arie a "wanker," he spoke for us all -- and found a way into our hearts. Since he's already a fan favorite, we need to know everything about this guy. Like, what's Lincoln's job and how will he really stand out in the crowd of all the other suitors?
There are a bunch of guys with fairly whack job descriptions this year, which is disappointing, since Becca seems fairly career driven as a publicist. For example, one guy calls himself a "social media participant," which makes me think that he's not here "for the right reasons," you know what I mean? Anyway, Lincoln is no such slouch.
Born and raised in Nigeria, Lincoln moved to Boston when he was a teen and then went to college in Kentucky, according to his official ABC bio. He always dreamed of living in California and made it happen — he now lives in Santa Monica and works as an "account sales executive." So he and Becca are sort of in the same kind of world. And he's cute, which means I'm totally liking where this is going. Then again, maybe he's just too good to be true. I mean, they are feeding each other cake in the premiere.
There's one more thing you need to know about Lincoln. Aside from disliking Arie and working in sales, Lincoln works out. Like, a lot. Most of his Instagram is of him working out and posing in front of gym mirrors, which can sometimes be a turnoff for people. But given how good he looks doing it, we'll have to give him a pass. If he's not at the gym, Lincoln also posts pictures of himself hanging out with his friends and chilling on boats. Which are all good things. Remember when I mentioned that this guy might be too good to be true?
You can never really tell who's going to be a frontrunner that early on. In fact, a lot of times, the most interesting contestants on both the Bachelor and Bachelorette only stand out in the very beginning and then people you never even remembered end up in the hometown dates. So being the very first, very charming suitor doesn't necessarily mean that he'll get very far.
The good news is that we're going into this season knowing that Becca found true love this time around. Maybe it's with Lincoln. She told People weeks ahead of the premiere that the process was totally "worth it" despite everything she's been through. Becca said:
I am engaged! It was the happiest moment of my life. And it feels so good to say it. I still pinch myself, like, did that all just happen? It's been a whirlwind.
She added, ""I'm so excited to start this season and for everyone to see everything that happened. It's been crazy, but it was so worth it." Apparently, the L-word was tossed around a lot this season. Becca told Entertainment Tonight that she ended up falling in love with a couple of the men. She said. "I did develop really strong feelings for a couple of them and I did fall for two guys at the end, yes. I wanted to go through the entire season doing me, and treating these guys with respect. So I will say that I tried to do that the entire journey."
In fact, she even sympathized with Arie, she said. Becca added:
Until you're in this position, you don't realize how much pressure there really is, and how difficult it is to navigate certain relationships. Because if you're doing it right, you should be developing feelings for multiple people to really sift through every personality, every relationship, to exhaust the ones that aren't right for you.
With all that charisma (and a house by the beach), it's highly likely that Lincoln ends up being one of those guys.