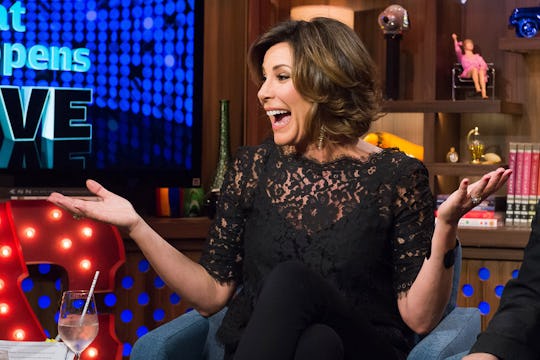 Charles Sykes/Bravo
What Is Luann De Lesseps' Net Worth? Money Can't Buy You Class, But It Can Buy You Things
There's something rather exciting about the Real Housewives of New York's cast's net worth. New York is not a cheap city to live in, so you know when you're dealing with women who live in the Hamptons and have Upper East Side apartments, there's a lot of money involved. Although it was widely reported last year that Countess Luann De Lesseps' fortune was around $2 million, the sale of her Hamptons home, and subsequent downsizing has produced a new figure. So what is Luann de Lesseps' net worth?
Apparently, it's now somewhere in the $15 million range, according to Celebrity Net Worth, which is not always accurate, but a good place to start. While Luann enjoyed a healthy modeling career in her younger years (before which she was an elder care nurse — who knew?), it was her union with Count Alexandre de Lesseps, an investment banker with a royal title, that really buoyed her bottom line. He's worth an estimated $50 million. But after their divorce in 2009, which Luann walked away from with her title and the Hamptons farmhouse, the Real Housewives of New York star was back to her own devices.
She did release those three singles, but it seems safe to assume she did not make a huge chunk of change on her Bravo Clubhouse lounge singer days. Although her etiquette book release triggered one of her more insufferable phases as she forced herself to remain #onbrand as the ever-classy, manners-obsessed Countess, Luann probably did get a decent paycheck for publishing Class with the Countess: How to Live with Elegance and Flair (which she later admitted was ghostwritten). According to Page Six, she also allegedly pulls in somewhere in the neighborhood of $20,000 per scene on Real Housewives of New York — a far cry from Bethenny's $1 million per season, which she negotiated for her return.
In response to Bethenny's killer haggling skills, in fact Page Six reports Luann, Ramona, and Sonja tried to power play Bravo for more money. The network came back with a threat to pull all their contracts. It was very clear that they were less willing to walk away from the show than Bethenny, so Luann got benched as a "friend of the Housewives" for that season instead of being a main cast member.
But she's back now, and with the sale of her $8 million Bridgehampton home, and her new $3 million Sag Harbor home, it looks like she's shored up her assets. Just in the nick of time, too, since she's about to marry Tom D'Agostino this New Year's Eve.