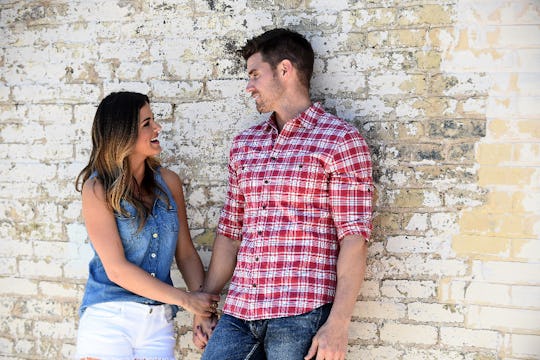 Felicia Graham/ABC
What Is Luke Pell's Job Outside 'The Bachelorette'? He Has Experience In Many Industries
We're down to the final four contestants in JoJo Fletcher's season of The Bachelorette, heading into the always-amazing hometown dates episode. In a dramatic Week 6, JoJo unexpectedly sent Alex home during their one-on-one date after he confessed his love for her and sent James Taylor home during the week's rose ceremony (beyond tragic). Still reeling from all that, we're now set to visit the families of Jordan Rodgers, Chase McNary, Robby Hayes, and Luke Pell. Without a doubt, the two biggest fan favorites still in the running right now are Jordan and Luke. We've heard ad nauseam about Jordan's career as a former pro football quarterback, but beyond the tragic story Luke told JoJo about losing a childhood friend while serving in the army, we haven't heard nearly as much about the war veteran's career. So what is Luke Pell's job outside The Bachelorette, since he is no longer in the military?
According to Luke's LinkedIn profile, as of September 2015, he is a business owner and entrepreneur. There are no specifics about the business he owns, but I'm guessing that it might have something to do with his music, given that he's listed music as his industry (and Austin, Texas as his area) in the LinkedIn profile header. In his bio, Luke writes that it is his personal mission to "spend everyday making a positive, purposeful, impact on all the relationships and interactions in his sphere of influence." That sure sounds like a thing that could be accomplished via music.
Luke seems to have been focused on his music career since at least 2013, based on Instagram posts about songwriting dating back to that time. His social media accounts are filled with photos of Luke and his band performing, mainly throughout the south. He also has music, released in 2015, up for sale on iTunes. He even teamed up with James Taylor recently for a few special performances, post-Bachelorette.
Prior to focusing on his entrepreneurship and music, Luke spent time in the professional coaching industry and the oil industry. He worked as a corporate account executive for The Flippen Group for just under two years and as a drilling foreman for Chesapeake Energy's Northern Division Drilling Department for about two years prior to that. As we already know thanks to The Bachelorette, before working in oil, Luke also completed nearly four full years of active military service, rising up from platoon leader to operations officer during that time.
In case you had any doubt that Luke is actually a super smart, well-rounded guy, his educational background lists that he completed a double major in sociology and systems engineering during his time at West Point, the United States Military Academy. As if we needed any more reasons to adore this handsome, chiseled Texan who will almost definitely be the 2017 Bachelor.