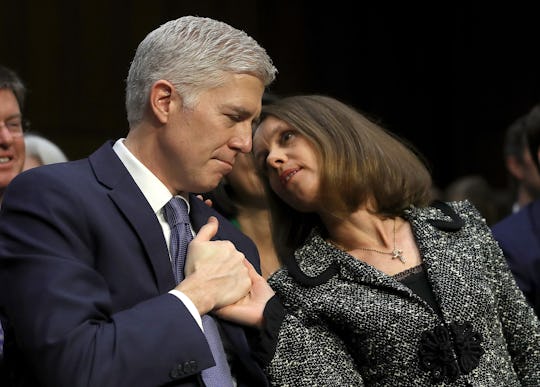 Justin Sullivan/Getty Images News/Getty Images
Marie Louise Gorsuch Leads A Busy Life
Ever since President Donald Trump announced his Supreme Court nominee to fill the empty seat following Justice Antonin Scalia's death in 2016, all eyes have been on his pick, Neil Gorsuch. The 49-year-old judge is never solo and always seems to have his wife by his side. She stood behind him during his acceptance speech and has been with him at every confirmation hearing so far. That's commitment and takes a lot of time and energy in and of itself — so it's no surprise some might be wondering what Marie Louise Gorsuch's job is, outside of acting as a strong anchor for her husband, who is facing a lot of scrutiny as a result of his nomination.
Information is quite limited on the SCOTUS nominee's wife — a British woman who reportedly goes by "Louise" — but it appears that she is a full-time mom and homemaker. Louise met her husband when they were both students at Oxford and she is a mom to their two daughters, Emma, who is 18, and Belinda, who is 16, according to Heavy. Louise and her family live in a "3,600-square-foot home in unincorporated Boulder County," according to The Daily Camera, a local newspaper in their Colorado hometown.
Although Gorsuch and his wife have been spending a lot of time in Washington D.C. lately, when Louise is not by her husband's side at confirmation hearings, she reportedly spends her time at their Colorado home raising horses, chickens, and goats. She may ride those horses as well considering that she is "a champion equestrian," according to The Washington Post. She also "often arranges ski trips with old friends and new associates from [her husband's] law firm," according to the SCOTUS blog.
If Gorsuch's new position is confirmed — that's still up in the air, as Senate Democrats plan to filibuster his nomination (Republicans are very confident he'll get approved) — it's likely that his family would follow him to the capital, though it's not clear how Louise might spend her time there. Perhaps she might get involved in a political cause she's passionate about or perhaps she'll simply keep it low-key and continue her life as a busy mom and supportive wife. Either way, the world is her oyster.
Even though her husband is in the political spotlight right now, Louise has managed to keep a pretty low profile. We rarely hear about the spouses of nation's Supreme Court justices, of course, but perhaps we should — justices are appointed to these positions for a lifetime and some of their wives and husbands also have fascinating passions and stories. We're getting to know a bit about Louise's backstory now and only time will tell if she'll share more of it with the public. Here's hoping she will.