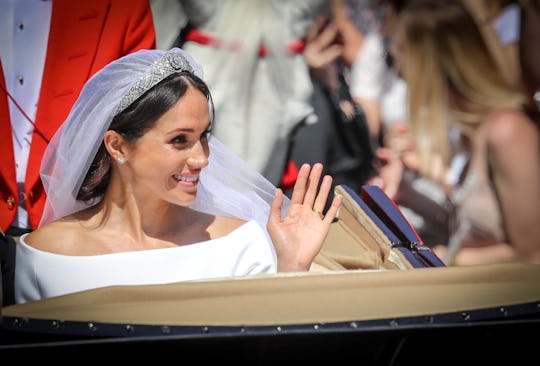 Matt Cardy/Getty Images Entertainment/Getty Images
Meghan Markle's "Something Borrowed" At The Royal Wedding Was A Big Surprise
Although Meghan Markle and Prince Harry have a fairly modern love story, the couple still appreciates tradition. Case in point: Markle participated in the old wedding tradition of "something old, something new, something borrowed, and something blue" at the royal wedding. So, what was Meghan Markle's "something borrowed" at the royal wedding? There's a good chance Markle's choice might surprise some fans.
When Prince William, Duke of Cambridge and Kate Middleton, Duchess of Cambridge got hitched in April 2011, the ceremony screamed tradition. In fact, Middleton took part in every aspect of the something old, something new, something borrowed, something blue convention. Middleton's something old was her wedding dress — the gown featured an old design pattern that paid homage to British craftsmanship, according to People. As for Middleton's something new, her parents, Carole and Michael Middleton, gave her a pair of leaf-shaped earrings by designer Robinson Pelham, according to The Telegraph. Middleton's something blue was a subtle blue ribbon stitched into her wedding dress, according to Town and Country Magazine. Finally, Middleton's something borrowed was a 1936 Cartier tiara courtesy of the Queen of the United Kingdom, according to Glamour. Cute details, right?
But what about Markle? Prior to Markle's nuptials on Saturday, there were rumors that Markle's something borrowed would pay homage to Prince Harry's late mother, Diana, Princess of Wales. "Harry made sure Diana wasn't forgotten on the day of his engagement. Two of the diamonds in Meghan's ring are from Diana's personal collection," Katie Nicholl, a royal expert, reasoned, according to ELLE. "So I think there's every possibility that Meghan might wear a piece from Diana's jewelry collection on her wedding day."
As for what people theorized Markle *might* choose from Princess Diana's collection, the big guess was the Spencer tiara. Princess Diana wore the Spencer tiara — her family's tiara — on her wedding to Prince Charles, Prince Of Wales in July 1981. The Spencer tiara hasn't been worn since Princess Diana died in August 1997, according to AOL. Considering Markle hoped to honor Princess Diana on her big day, this was a solid guess.
So, did Markle choose the Spencer tiara as her something borrowed? The answer is no. As it turns out, Markle opted for a tiara given to her by the Queen, according to The Times. The tiara belonged to the Queen's mother, Queen Mary, and it was made in 1932, according to The Telegraph. Making matters fancier is that the centre brooch dates back to 1893, according Harper's Bazaar. "The veil is held in place by Queen Mary's diamond bandeau tiara, lent to Ms. Markle by The Queen," Kensington Palace confirmed in a tweet. "The diamond bandeau is English and was made in 1932, with the centre brooch dating from 1893." Wow. It's pretty incredible that Meghan got the opportunity to wear such a historic tiara, to say the least.
As for those who are disappointed that Meghan didn't wear the spencer tiara, rest assured that she honored Princess Diana in other special ways. For instance, Meghan wore a veil similar to the one Princess Diana wore at her wedding to Prince Charles in July 1981, according to Cosmopolitan. Additionally, Meghan and Harry chose to adorn St George's chapel with white roses — Princess Diana's favorite flowers, according to The Sun. To top it all off, Meghan and Harry might have left a seat open at the chapel to honor Princess Diana's memory. Moving stuff, right? It's awesome that Meghan and Harry went above and beyond to honor Princess Diana on their special day.
Once again, it's great that Meghan got to borrow Queen Mary's tiara via the Queen — Harry's beloved grandmother. Although the choice might be surprising to some fans, I think it's a nice testament to Meghan officially joining the royal family.