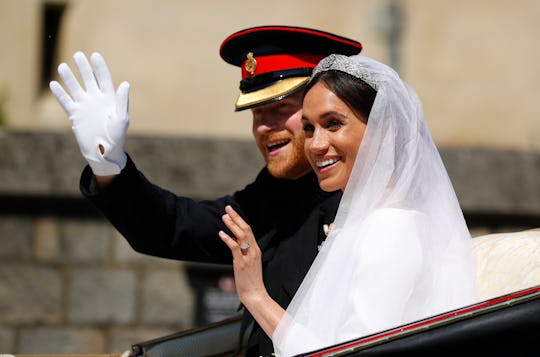 WPA Pool/Getty Images News/Getty Images
What Is Meghan Markle's "Something New" At The Royal Wedding? It Might Have Been Obvious
Something old, something new, something borrowed, and something blue is a tradition that some brides have a lot of fun with, members of the British royal family included. Because of that, there's been some speculation as to if Meghan Markle, The Duchess of Sussex would follow the tradition as well (with most predicting that she would), as well as what those items might be. One of the least-predicted was her "something new." So fans were left to wonder, what was Meghan Markle's "something new" at the royal wedding?
Harper's Bazaar Australia reported that royal brides like Kate Middleton, Princess Margaret, Princess Anne, then-Princess Elizabeth (now Queen of the United Kingdom), and then-Lady Diana (the future Diana, Princess of Wales and Harry's mom) all followed the old, new, borrowed, blue tradition on their wedding days.
There was a lot of talk about what Meghan's "something borrowed" might be before her wedding, but far less conjecture about the rest. Though nothing has been confirmed as her "something new," there are a few fairly obvious items that are potential possibilities. For one, her stunning Givenchy gown designed by Clare Waight Keller, the fashion house's first female artistic director, is, of course, new. Markle herself was involved in the design process, as a Kensington Palace statement said.
Her long, dramatic veil, too, featuring the flowers of all the countries in the Commonwealth, as well as the state flower of California — Markle's birthplace — and one that grows at Kensington Palace, could have served as her "something new." (Or her "something seriously beautiful and sentimental" if you ask me.)
Yet another potential is her jewelry. Though her tiara was borrowed from the Queen of the United Kingdom, Kensington Palace released a statement that noted that Meghan wore a bracelet and earrings by Cartier. Her new wedding band could also count, although it's a little more steeped in history. According to CNN, her ring was "made from a piece of Welsh gold given to her by the queen." That sounds super fancy and romantic, but it's also a family tradition. Starting in 1923, the Queen Mother had her wedding ring made out of the same type of gold, and the bands for Queen Elizabeth, Princess Margaret, Princess Anne, and the late Princess Diana, Princess of Wales, were all created the same way. (Maybe this is a combination of something old and something new?)
Honestly, any part of the Duchess of Sussex's wedding attire and accessories could count as her "something new." The Mirror reported that when Catherine, Duchess of Cambridge married Prince William, Duke of Cambridge, her "something new" was the pair of earrings given to her by her parents, Carole and Michael Middleton. The jewelry was meant to mark her wedding day, and was such a sweet gesture. (Also, those earrings were gorgeous, so good choice, Mom and Dad.) If Meghan follows her sister-in-law's footsteps, her "something new" could be her jewelry as well. (I mean, dude. She had plenty of it.) But as we learned from the wedding ceremony, Meghan's not exactly one to blindly follow tradition or not exude herself a bit in whatever she does. Until she confirms, it's impossible to know exactly what her "something new" was for her wedding day.
If I got to choose, I'd say her "something new" was that flavor and passion she brought to St George's Chapel. I love tradition, especially British tradition, but hearing the gospel choir sing "Stand by Me" and having such an incredible bishop share Martin Luther King Jr's words in a riveting sermon? Oh yeah. Let's have that count as your "something new," Meghan, OK? It can count as all of ours, too.