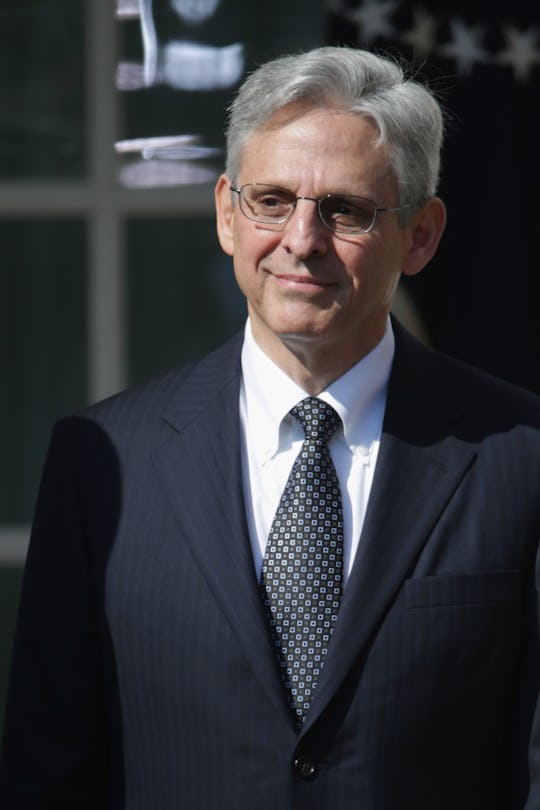 Chip Somodevilla/Getty Images News/Getty Images
What Is Merrick Garland's Background? Here's What You Should Know
President Obama announced his nomination for the recently vacated seat of the Supreme Court on Wednesday afternoon following weeks of clashes with Republican congressional members. During a speech in the Rose Garden, Obama introduced Garland to family and White House staff, as up until Wednesday, the centrist judge had largely remained a mystery to most people unfamiliar with the U.S. Court of Appeals (don't worry, I was one of them too). So what is Merrick Garland's background? He has a huge history as a judge and a story of which people need to take note.
According to Biography, 63-year-old Garland was born in Chicago and grew up in the suburb of Lincolnwood, Illinois. After graduating from high school, Garland attended Harvard College and received a bachelor's degree in social studies. Like President Obama, Garland went on to attend Harvard Law School and graduated in 1977 with top honors.
Garland is currently the chief justice on the U.S. Court of Appeals for Washington D.C. and has been for the past 19 years but has had an extensive career as a judge and lawyer that brought him to his current position as nominee for the highest court in the land.
Right out of college, Garland clerked for Second Circuit Judge Henry Friendly and worked for U.S. Supreme Court Justice William Brennan. Between 1979 and 1981, Garland also worked as a Special Assistant to the Attorney General.
Garland also served an Assistant U.S. Attorney in D.C. as well as Deputy Assistant Attorney General in the Criminal Division and the Principal Associate Deputy Attorney General. (A lot of big titles — I know.)
Garland also has experience in the private sector on top of all of his work in the different courts. According to NPR, Garland was named partner at D.C. law firm Arnold & Porter in 1985 and left the position in 1992.
Perhaps one of his biggest accomplishments during his career was the time that Garland spent working on the Oklahoma City Bombing in 1995, where Garland was the highest ranking Justice Department official to be on the scene in Oklahoma at the time. There, he spent his weeks examining the crime scene, preparing for the prosecution and helping the start of the case, which had a lasting impact on him as a judge.
During the Clinton Administration, Garland was elected to the U.S. Court of Appeals in 1995 where he has continued to serve for the rest of his career from then until now. Despite all of his big titles, USA Today notes that Garland has made few major decisions and none at-all on hot button issues, but is still respected by his colleagues nonetheless.
Throughout his time on the U.S. Court of Appeals, Garland has been known to be moderate, appealing to both liberals and conservatives. However, the moderate nominee is still no match for the stubborn Republican Congress, which plans to stall his confirmation to the Supreme Court seat in any way possible.
We will have to wait and see if Garland is confirmed to the Supreme Court seat but citizens should rest assured that the judge's extensive background in dealing with tough legal precedents makes him qualified to hold the position.