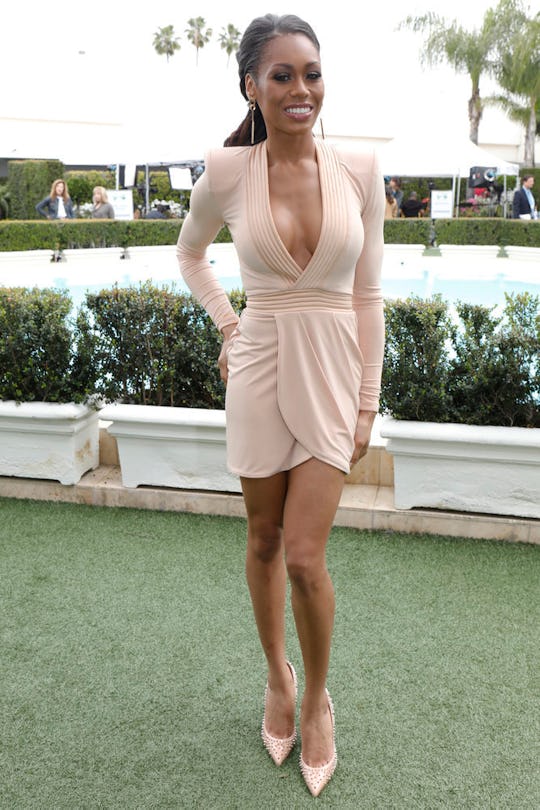 Evans Vestal Ward/NBCUniversal
Monique Samuels Is One To Watch On 'RHOP'
The stars of all of The Real Housewives shows might be paid handsomely just for allowing cameras into their lives, but when it comes to their personal fortunes, the numbers seem to be perpetually rising. With The Real Housewives of Potomac's latest addition, there is to exception either, but what is Monique Samuels' net worth exactly?
The Real Housewives of Potomac star works hard for her family, but right now the only net worth listed anywhere is that of her husband, Chris Samuels, who was once a member of the Washington Redskins. According to celebritynetworth.com, Chris' net worth is currently at more than $18 million, but he likely didn't get there alone. The couple's fortune has enabled them to not only settle in the wealthy city of Potomac, Maryland, but to also own a total of four homes — one of which is apparently used to rent out to other NFL players because they don't need it.
Chris is a retired football player, but his organizations — like Chris Samuels Enterprises and the Chris Samuels Foundation — along with his real estate business are all run by Monique. Plus, this is all while she works on earning her business degree, so she's pretty much a superhero at this point and extremely ambitious.
Although RHOP isn't yet at the same level of popularity as The Real Housewives of Atlanta or The Real Housewives of Beverly Hills, its second season is already an indication that it's on its way. For Season 7 of RHOA, NeNe Leakes reportedly earned $1.5 million, and while that's certainly high on the scale of Real Housewives salaries just for being on the show, the drama and flashiness of RHOP is already allowing the new installment to fit right in with the rest.
Aside from running the family businesses and running her house, Monique is also a full-time mom to two toddlers and, judging from her Instagram, she does pretty much everything for her family, so the RHOP newcomer definitely works hard for what she has.
Monique is also super generous. According to The Daily Dish, Monique and Chris readily give money to friends in need, calling the loan a donation without the expectation of a payback, though with the agreement that it's a one-time deal. Being a multi-millionaire will probably do that for you. Although Monique's net worth isn't listed anywhere just yet, the fact that she's about to be thrust into the public as a new member of RHOP will likely change all that.