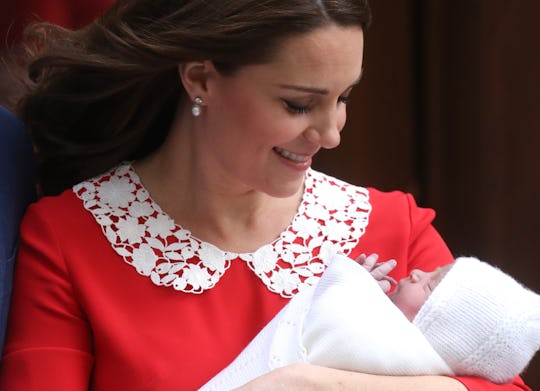 Chris Jackson/Getty Images Entertainment/Getty Images
Turns Out, Prince Louis' Last Name Might Be A Bit Confusing
On Monday, April 23, at 11:01 a.m. London Time, The Duke and Duchess of Cambridge, Prince William and Kate Middleton, welcomed their second son and third child. And a few days later, on Friday, April 27, they announced his name: Louis Arthur Charles. But what is Prince Louis' last name? Turns out, royal surnames are a big deal and, well, a tad confusing.
According to Harper's Bazaar, The Duke and Duchess of Cambridge actually have a few options when it comes to the new prince's surname. First, the prince can decide he doesn't want to use a surname at all. "Any royal with the title 'His Royal Highness Prince' or 'Her Royal Highness Princess' isn't required to use a surname at all," so if it all becomes too overwhelming, the kid can literally leave it at Louis Arthur Charles and call it a day. That would certainly make the entire process much simpler.
But if Prince Louis wants to get complicated about it, the royal family's website explains why his surname might be Mountbatten-Windsor, writing, "Just as children can take their surnames from their father, so sovereigns normally take the name of their 'House' from their father." And after a radical change, when, according to the same site, "George V specifically adopted Windsor, not only as the name of the 'House' or dynasty, but also as the surname of his family" and Windsor was confirmed by The Queen after her accession in 1952, it was "declared in the Privy Council that The Queen's descendants, other than those with the style of Royal Highness and the title of Prince/Princess, or female descendants who marry, would carry the name of Mountbatten-Windsor."
Still following?
According to the royal family's website, "Unless The Prince of Wales chooses to alter the present decisions when he becomes king, he will continue to be of the House of Windsor and his grandchildren will use the surname Mountbatten-Windsor." But here's when things get real complicated. According to Harper's Bazaar, "when Prince George started his education last September, Kensington Palace confirmed he would be known as George Cambridge, reflecting the title given to his parents." In other words, once Prince Louis Arthur Charles starts school, we could very well find out that his chosen surname is Cambridge, and not Mountbatten-Windsor.
And you thought simply picking a first and middle name for you kid was a tough ordeal. Ha!
The Duke and Duchess of Cambridge are known for celebrating and sustaining old traditions while incorporating some modern twists. For example, the birth of their third child was announced outside Buckingham Palace per royal protocol; on a framed notice placed on a ceremonial gold easel to be displayed for approximately 24 hours. But the birth was also announced via Twitter and the royal family's website. And while Kate Middleton stepped outside the hospital, baby in her arms, just a few hours after giving birth to show that both her and baby were OK, again, per royal protocol, she also reportedly gave birth using hypnobirthing; a new-age birthing method that relies on the laboring woman to "tap into her subconscious."
So the new prince's surname isn't a foregone conclusion, and the world will have to wait until the youngest child of The Duck and Duchess of Cambridge enters school to find out which name he, or his parents, will pick. One thing is for sure, though: Prince Louis Arthur Charles is royalty regardless.
Check out Romper's new video series, Bearing The Motherload, where disagreeing parents from different sides of an issue sit down with a mediator and talk about how to support (and not judge) each other's parenting perspectives. New episodes air Mondays on Facebook.