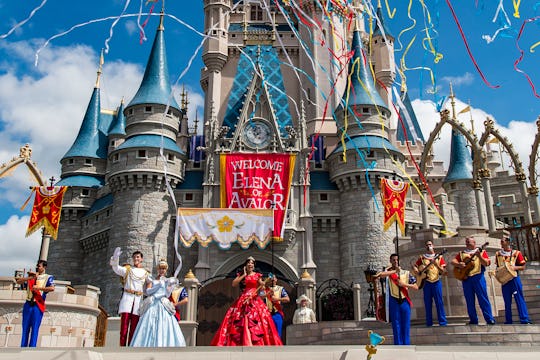 Handout/Getty Images Entertainment/Getty Images
Project Princess Is Bringing Magic To Hospitalized Kids
I remember the first time I watched Disney's Cinderella as a little girl. They were showing it at my local theater for one of those throwback afternoons, and I was forced to go with my cousins. I was a tomboy, and I mostly played with superhero stuff back then. But sitting in that dark theater, I connected with Cinderella in a way I couldn't understand — in the way of so many little girls. Which is why the concept of the program "Project Princess" gets me right in the feels. Sending Disney-inspired princesses to visit sick kids? Knowing there is a sick kid out there, lying in a bed, who will open their eyes and see Ariel, or Belle, or Snow White standing in front of them? The magic is real.
Because Kierra Brown just gets it. The 25-year-old Gainesville, Florida native started the free program, Project Princess — which sends University of Florida student volunteers dressed as Disney-inspired princesses to sick kids — last year. Brown, who is a children's book author and young entrepreneur, came up with the concept after she started visiting local hospitals dressed as Princess Tiana of Disney's The Princess and the Frog in 2012. Not only did kids relate to Brown as the feisty, ambitious Princess Tiana, she related to her character on a few levels herself.
Brown, who never had the chance to visit Disney World as a little girl, explained to People:
There were so many similarities in that character's story that related to my life. It was about this princess from New Orleans who has a dream of owning her own restaurant but she grows up in a poor environment. I grew up in a single parent home — my father passed away when I was 3 — and in a not-so-nice community. I saw my mother struggle and work so hard to ensure my brother, my siblings and me could have a better life. What that story told me was that if you work hard enough, you can achieve your dreams.
Clearly dressing up as a Disney-inspired princess to entertain sick children was a dream she shared with other University of Florida students; 100 women answered Brown's initial casting call. There are 16 princesses working with Brown these days, and Lesly Ramirez (who also dresses as Princess Tiana) gets as much joy from the looks on the kids' faces as they get from seeing her. She told People:
It always lifts my spirit. Even when I am tired, once I have this experience, it's like this just made my day. The children, they are so excited to see you, every single time. It's so hard not to cry. They have these dire situations, and they are just so resilient. They inspire me.
Thanks to this talented group of University of Florida theatrical members, sick kids can look forward to visits from Princess Jasmine, Cinderella, Anna and Elsa from Frozen... and for just a moment in time, they can live in a world of fairy tales. As Cole Dooley, whose daughter Phoebe has suffered from a rare type of pediatric brain cancer, said to People:
I mean, who wouldn't like to have a princess come to your house and play with them and read stories and make them feel special? Kierra essentially brought that to our house. For a little bit of time, Phoebe wasn't worried when she had to go get labs next or take medicine. She got to be a little kid.
And isn't that what every kid deserves? To simply be a little kid, even if just for a moment?
To donate to Project Princess, check out their GoFundMe page here.