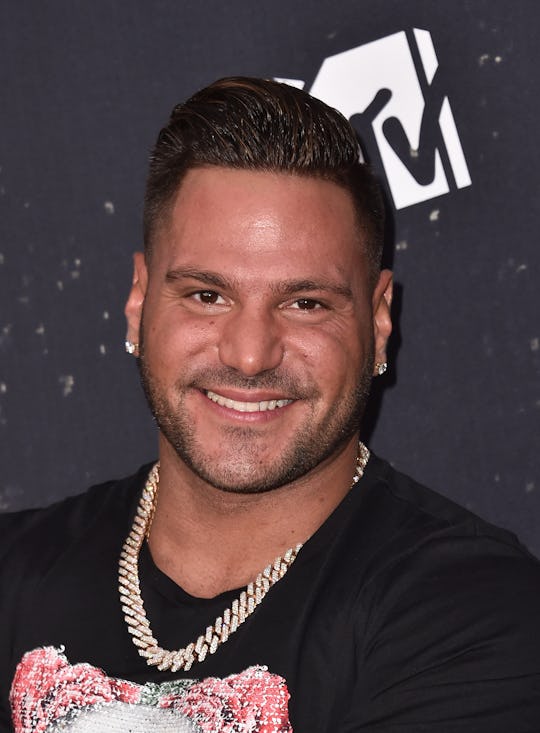 Alberto E. Rodriguez/Getty Images Entertainment/Getty Images
Ronnie's Baby Is A Big Part Of His Story On 'Jersey Shore Family Vacation'
The last time fans of Jersey Shore saw Ronnie Ortiz-Magro, he was trying to figure things out with his pregnant girlfriend, Jen Harley, on Jersey Shore Family Vacation. Between the time that filming ended for the first season and filming of Season 2 began, their baby was born and the couple have been on and off at different times. Since she's sure to be a big part of the upcoming season, however, fans are probably wondering, what is Ronnie's baby's name? The Jersey Shore star is a new dad to a tiny baby girl.
Ronnie's daughter, who is now four months old, is Ariana Sky. There are a ton of photos of her on his Instagram as well as Harley's and even though the couple are on again/off again, they seem to be working on co-parenting even during the "off again" times. In the preview for Season 2 of Jersey Shore Family Vacation, the attention is once again on Ronnie as he struggles with both newfound fatherhood and his relationship with Harley. It's just a step above last season, when the issue for Ronnie was coming to terms with being a father and staying in a committed relationship.
Judging by the trailer, it looks like the Jersey Shore cast starts off in Las Vegas, which makes sense, since that's where Ronnie currently lives. It also makes sense, then, for Ronnie's drama to be all about his daughter and his sometimes girlfriend. At least until the focus goes back to Jersey, where Ronnie may or may not accompany the rest of the cast. Depending on where things stand with Harley at that time, Ronnie's role in Season 2 could be more of a part-time thing.
Outside of the show, Ronnie and Harley have been the subject of many a news headline when it comes to their relationship over the past several months. Back in May, shortly after the birth of their daughter, Ronnie and Harley took to Instagram to publically fight while posting videos and photos of each other. Some of the live videos that posted were downright disturbing in how raw and real they seemed to be, as the couple screamed at each other in their Las Vegas home. Not too long afterward, they made up and it was back to business as usual. It's not clear if this first explosive fight will be on Jersey Shore Family Vacation Season 2, but it seems to be an ongoing thing with the pair.
In June, Harley was charged with domestic battery after she and Ronnie allegedly left a friend's party and got into an argument while driving home. When Ronnie got out of the car, Harley reportedly continued to drive, causing minor injuries to his arm. Despite Ronnie's tumultuous relationship with Harley, however, he seems to be devoted to Ariana and his relationship with her above all else. Since she was born, he's posted tons of photos of her on Instagram as any doting new parent would and it's kind of adorable.
Since Ronnie and Harley's last big blowout, the couple have gone back and forth with their relationship and as recently as the beginning of August, they were together once again. They both posted several Instagram photos and videos together and with Ariana while on vacation in Puerto Rico. As Jersey Shore fans can attest, Ronnie and Harley have something of a roller coaster relationship. But right now, it would seem that they're once again trying to work things out for the sake of their daughter. And, more than likely, viewers will see some of Ronnie's drama and his adjustment to fatherhood play out this season on Jersey Shore Family Vacation.