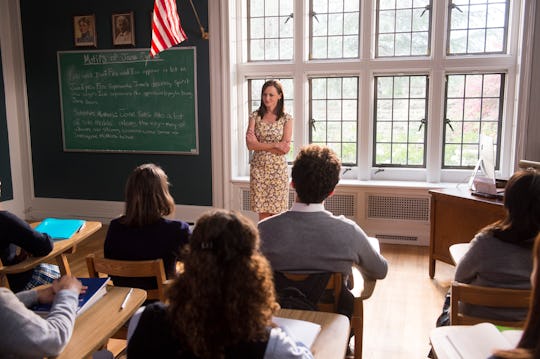 Neil Jacobs/Netflix
What Is Rory's Job In The 'Gilmore Girls' Revival? It Seems Her Career's On Pause
When news of a Gilmore Girls revival hit the internet, fans of the dramedy had about a million questions on their mind. And when the official trailer for Gilmore Girls: A Year In The Life was released on Oct. 25, some were answer and others were not. One of those being what is Rory's job in the Gilmore Girls revival?
When fans last saw the youngest member of the Gilmore family in 2007, she had just graduated from the prestigious Yale University, was struggling to find employment, and was planning a roller-caster road trip with her mom. You know, the typical post-grad story. But during her last Friday night dinner before hitting the road, Rory receives a job offer that she can't turn down — an opportunity to cover Barack Obama's presidential campaign and his bid for the Democratic Party for an online publication. (Yeah, I know — dream come true). In the series finale, aptly titled "Bon Voyage," Rory prepares to leave Stars Hallow for an unknown amount of time and make a name for herself as a political journalist. Something she's dreamed of since the days of dating a box boy named Dean.
Given Obama's 2008 and 2012 election victories, one would hope that Rory gained some type of job security. But a view (OK, multiple views) of the recently released Gilmore Girls: A Year In The Life trailer, prove that she still may be struggling on the employment front. However, it may be by choice.
Less than a minute into the trailer fans see Rory, who is in her early 30s, saying this is her "time to be root-less." Shortly thereafter, during a scene from what I hope is one of many Friday night dinners, Emily describes her granddaughter's current status as a "vagabond existence." Lorelai, being such a free-spirit herself, is obviously cool with it and says Rory is, "Jack Kerouac. She is On The Road-ing it." And after seeing Rory walk through a few fancy offices and stroll through the streets of London, it seems to be a pretty great set up. Until it's not any more.
Flash forward a few seconds to Rory discussing her current life status with former flame Jess. And by the amount of scotch in her glass and whine in her voice (did I mention I'm not a Rory fan), things don't seem to be going as well as she told her grandmother.
"I'm feeling very lost these days. I have no job. I have no credit. I have no underwear. I could have been a contender."
I hear ya girl. No one likes to be without money or underwear (though, life hack, bathing suit bottoms work just as well.)
Prior to the trailer's release, many fans and publications alike thought Rory became a teacher at Chilton, her alma matter and the place where she gained her neurotic BFF Paris Gellar. And that theory may prove to be true by the end of the series. Towards the end of the trailer, fans see Rory standing outside the ivy brick building. Granted, she could be there for a number of reasons — an alumni event, a talk with students, a walk down memory lane to name a few.
Regardless of what Rory's job is in Gilmore Girls: A Year In The Life, it'll be entertaining to watch her journey. And hopefully by the end of the four episode revival, she will finally be able to buy some underwear.