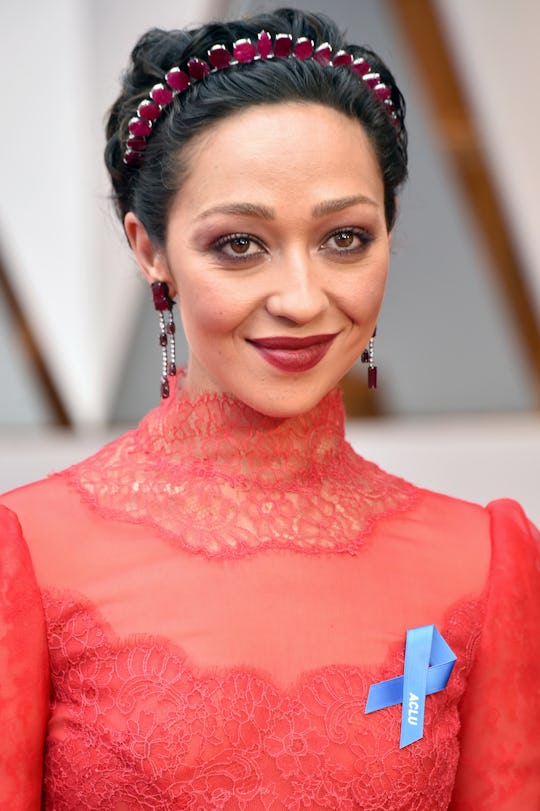 Frazer Harrison/Getty Images Entertainment/Getty Images
Ruth Negga's Oscars Ribbon Is A 'Loving' Tribute
Academy Award nominee Ruth Negga promised that she'd "fly the flag for Ireland" in her 2017 Oscars dress, but how she accessorized the custom-made scarlet Valentino gown is what really turned heads. So what is Ruth Negga's ribbon? She wore an ACLU ribbon to the Oscars, which she pinned prominently on her gown to make sure it found its way into every photo.
Negga is nominated for her role in Loving, the true story of the interracial couple Mildred and Richard Loving, who were responsible for ending America's miscegenation laws in 1967 with the help of the ACLU. In 1958, they were thrown out of the state of Virginia following an arrest, and after their case was taken up by the ACLU, it eventually went all the way to the Supreme Court. The unanimous decision handed down in Loving v. Virginia determined that a ban on interracial marriages was unconstitutional, a ruling which would later serve as the precedent for striking down the gay marriage ban in 2015. Negga's stylist for the 2017 Academy Awards, Karla Welch, posted a closeup of the ribbon on her Instagram accompanied by the caption, "The accessory I'm most proud of." Of course, the ACLU has been in the spotlight recently for more than just their role in the biopic.
Following President Trump's immigration ban, the ACLU enjoyed a surge of visibility and support as its lawyers went into overdrive, protecting the civil liberties of individuals and families affected by the ban. That's why the organization made the most of Oscar night and launched the "Stand With ACLU" initiative for celebrities last week. According to The Hollywood Reporter:
"...the campaign encourages Hollywood stars to wear a Stand with ACLU blue ribbon as a symbol of solidarity with the nonpartisan, nonprofit organization, which has worked for nearly 100 years to defend and protect individual rights and liberties guaranteed by the Constitution and law of the U.S."
In addition to Ruth Negga, Oscar nominee Lin-Manuel Miranda and his lovely date (his mom, of course) were also spotted wearing the blue ACLU ribbons pinned to their outfits on the red carpet. He's nominated for Best Original Song for his work on Moana's "How Far I'll Go," so, obviously, the campaign has taken off.
The organization even got shoutout in Sarah Paulson's Jan. 29 SAG Awards speech and, from the looks of it, seems poised to spark plenty of chatter tonight.