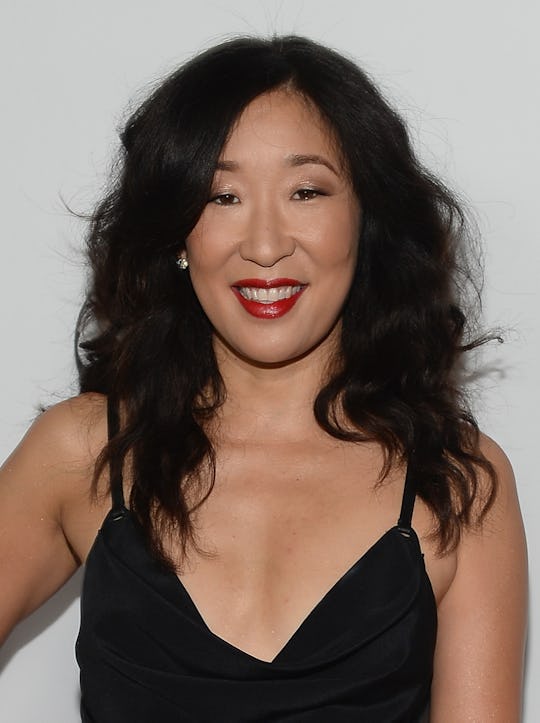 Michael Buckner/Getty Images Entertainment/Getty Images
Sandra Oh Has Been Keeping Herself Busy Post-'Grey's
In a perfect world, Cristina would have returned to Grey's Anatomy after Derek died, George would have recovered from the bus accident virtually unscathed, and Izzie would have made things work with Alex. Unfortunately, none of those core OG characters are still around today, but the 300th episode is set to pay homage to them all, including Meredith's "person." And it makes you wonder, what is Sandra Oh doing now? The Grey's Anatomy star has been keeping busy over the years, even if she still hasn't made an appearance on the show that seemed to start it all for her and catapult everyone's favorite snarky TV surgeon to stardom.
After Grey's, Oh never really stopped working and has appeared in several different shorts, movies, and TV shows, including ABC's American Crime and now the upcoming BBC America series Killing Eve, which will be her first more permanent cast role since leaving her role as Cristina on Grey's in 2014. And just this past summer, the Canadian-born actress was the host for the Canada 150 celebration of the country's 150th birthday.
But like most of the former Grey's stars who have left the show, fans probably shouldn't hold out hope for Oh's return for the 300th episode, though there will be enough lookalike characters on-screen to make us all feel nostalgic for the good old days of interns sleeping with surgeons and the epic episodes the show has become known for.
Although Oh has kept busy with other work after her exit from Grey's, that doesn't mean she hasn't kept in touch with some of her former co-stars, namely her former TV ex-husband Kevin McKidd, who still plays Owen on the series. McKidd recently spoke to Entertainment Tonight about the upcoming 300th episode and how even though Oh won't be making an appearance, he's still all for Cristina's return to the show in any other capacity.
"I hope she will [return to Grey's]. I think it would be so much fun," he said. "It would open up so much again in the story and mix everything up. Owen, wherever he is in his life, would have incredible stories. She's just such an amazing actor. I still miss her to this day."
Oh's upcoming BBC America series Killing Eve will be a little different from Grey's in the sense that it will be more of a thriller than anything else, but after her role in the dramatic and intense American Crime, something tells me she's more than up to the task. And before that, she was in the drama/action movie Catfight alongside Anne Heche and Alicia Silverstone.
Even though the 300th episode of Grey's won't feature any of the core characters, like Cristina, George, and Izzie, fans will get to meet their doppelgängers who serve as emergency room patients.
"Episode 300 is going down kind of like memory lane. We'll see some actors who come into the hospital after a horrific accident who remind us of Izzie and George and Cristina Yang," James Pickens Jr. [Richard Webber] told E! News. "And it's so cool how they do it. And they found three remarkable actors… When I came and I saw them, I said, 'Wow,' because they were such integral parts of the success of the show and such amazing talents in their own rights, so we miss them very much. So it will be nice for the audience to say, 'Oh wow, there they are.'"
Oh herself wasn't able to return to Grey's for the special 300th episode, but I think we can forgive her since she obviously still holds a certain amount of respect for the show that fans still love her for.
"It would have to feel right," Oh told Access Hollywood Live in February 2017 when asked if she would ever return to Grey's. "As an actor, as an artist, it's a full life that one has. And as I look back to that time, which is extremely important and deeply meaningful to me, and it means a lot to me that a whole generation, a new generation of fans are discovering the show. So it means a lot."
Despite the hole that Oh might have left in some fans' heart by leaving Grey's, clearly the actress has been working hard post-Cristina Yang, so at least she hasn't left our TV screens for good.
Watch Romper's new video series, Romper's Doula Diaries:
Check out the entire Romper's Doula Diaries series and other videos on Facebook and the Bustle app across Apple TV, Roku, and Amazon Fire TV.