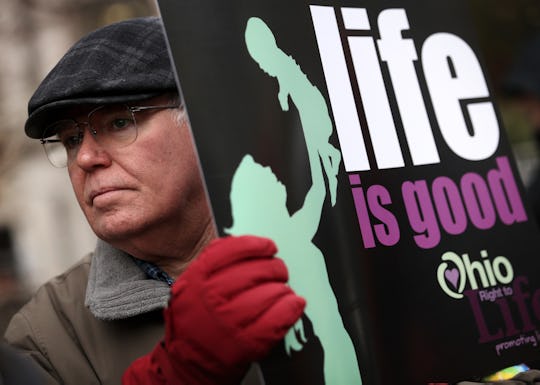 Alex Wong/Getty Images News/Getty Images
Ohio's SB 145 Would Criminalize 2nd Trimester Abortions
Following on the heels of the fetal burial bill signed into law in Texas, Ohio has now taken on the mantel of obstructing women's reproductive autonomy. What is S.B. 145? Ohio's newest abortion bill would criminalize abortions in the second trimester, despite their legality thanks to Roe v. Wade. Hearings on the bill began in the Ohio state senate on Tuesday. Anti-choice groups including Ohio Right to Life showed up to offer their support for the medically unsound bill, while a group of pro-choice protesters sat in the gallery dressed as the oppressed red-cloaked maids from Margaret Atwood's dystopian novel The Handmaid's Tale and the Hulu show it inspired.
S.B. 145 has been dubbed a "dismemberment ban" on abortion, an unfair and exceptionally biased characterization of the dilation and evacuation method of abortion, commonly referred to as a "D and E." The American Congress of Obstetricians and Gynecologists recommends that a D and E be performed after 14 weeks gestation, when a vacuum aspiration is no longer possible. Dilation and evacuation is the most commonly performed method of abortion for women in their second trimester, according to women's health non-profit Our Bodies Ourselves.
Worse still, any person who provides a D and E to a woman past 13 weeks' gestation would be charged with "dismemberment feticide" — a fourth degree felony, according to the proposed bill.
The primary sponsors of the bill are Ohio State Sens. Matt Huffman and Steve Wilson, and it's a deliberate choice to call the D and E abortion method "dismemberment abortions" — the language is meant to capitalize on the now-discredited videos that falsely accused Planned Parenthood of selling fetal tissue. Specifically, the legislative text of S.B. 145 defines "dismemberment abortion" as the following:
"Dismemberment abortion" means, with the purpose of causing the death of an unborn child, to dismember a living unborn child and extract the unborn child one piece at a time from the uterus through use of clamps, grasping forceps, tongs, scissors, or similar instruments that, through the convergence of two rigid levers, slice, crush, or grasp a portion of the unborn child's body to cut or rip it off. "Dismemberment abortion" includes a dismemberment abortion during which a suction is used after the death of the unborn child to extract any remaining parts of the unborn child.
According to the Guttmacher Institute, there were 431 provisions to restrict abortion access throughout state legislatures in the United States at the end of the first quarter in April of this year. Ohio's S.B. 145 is one of 17 pieces of state legislation banning a specific abortion method introduced so far this year, as well as one of two states seeking to restrict abortions after a specific point in a woman's pregnancy.
In December, Ohio Gov. John Kasich signed a late-term abortion bill into law, banning abortions after 20 weeks. At the same time, Kasich also vetoed a "fetal heartbeat" bill that would have banned abortions as early as six weeks, or when a fetal heartbeat can be detected. When Kasich was a member of the U.S. Congress, he voted in favor of banning late-term abortions. It is unclear if Kasich would sign the Ohio's "dismemberment abortion" bill into law if it manages to make its way to his desk.