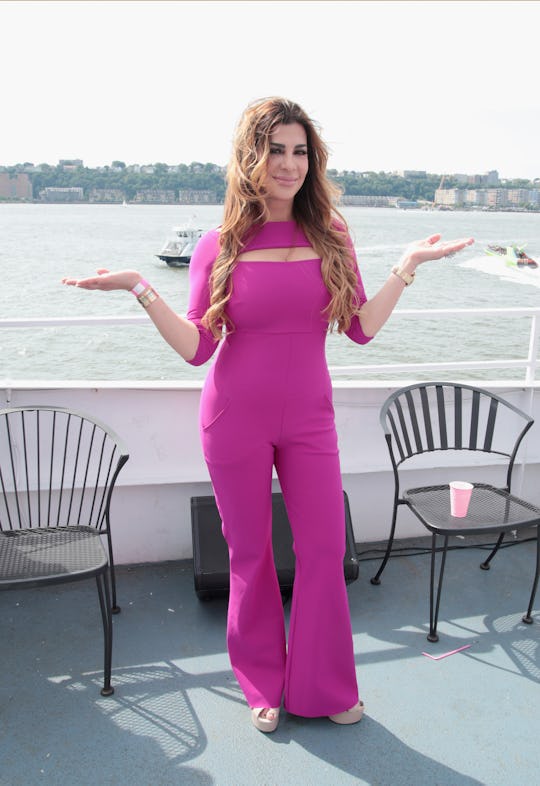 Cindy Ord/Getty Images Entertainment/Getty Images
Siggy Flicker's Husband Has An Impressive Net Worth
Siggy Flicker is a professional matchmaker and it looks like she's done pretty well for herself in her personal love life as well. She and her husband Michael Campanella seem to get along, for the most part, on the show. So what does he do and, more importantly to Real Housewives of New Jersey fans, what is Siggy Flicker's husband's net worth?
Michael is Siggy's second husband, whom she married in 2012. Her first husband, Mark Flicker, served as best man in the wedding and set her ex up with his current wife, going so far as to throw her a shower. So when Siggy tries to give relationship (or life!) advice to the other women, they really should listen to her. She seems to know what she's doing in the relationship department. As for the money department, Siggy and Michael are rolling in some serious dough. Michael is a very successful car dealer in New Jersey, which, according to CelebrityNetWorth, makes him worth around $5 million. Not too shabby, if you ask me.
However, there does seem to be a little trouble in the Flicker/Campanella household this season; In the premiere, Siggy was tearful as she told the ladies at their first dinner together that Michael wants her to work less, which feels very problematic. No husband should ever try to control whether or not his wife works (because, seriously, what decade is this?). Something like this should be her decision and hers alone, even if he does make enough to be able to support them both.
Last year was Siggy's first season on the show and fans didn't really get to see a whole lot of Michael, though this time around he's hanging around the kitchen a lot more often. Early on in the season, he and Siggy ate dinner together and he counseled her on what to do about the The Cake Incident. Though if his counseling turns into controlling (especially in regards to her career), then there could be trouble in paradise as the season progresses.
While last season focused on Siggy's impending empty nest and how caring she was for her friends (remember how welcoming she was when Teresa came home?), this season she's the center of some conflict. Apparently in the off season, she and Dolores became close and with the return of Danielle and arrival of Margaret, some very clear battle lines have already been drawn.
If anything, Danielle, Teresa, and Melissa have sort of brought Margaret into their fold, leaving Siggy and Dolores as the outcasts. While down in Boca Raton, Florida to celebrate Melissa's birthday, they all got in a huge fight because Siggy called the rest of them "trash" for having a food fight at a restaurant. Later in the trip, she wasn't invited to do yoga or go to a send-off ceremony for Teresa's mom and her feelings were really hurt. She wrote in her Bravo blog:
While I continued to invite Margaret to the activities I planned, she didn't feel the need to reciprocate. She organized a memorial for Teresa's mother, ordered a wreath and booked a paddle board instructor from my beach club—my private beach club—and never said a word to me. Me, the member of the beach club who sponsored the weekend.
When they got back to New Jersey, Michael counseled her to make nice with the women and talk it out, but that didn't work either. I have a very strong feeling that this beef isn't ending anytime soon. Hopefully, Michael and the other husbands don't get involved, as they so often do on RHONJ. Maybe he should stick to selling cars. It's generally safer.
Watch Romper's new video series, Romper's Doula Diaries:
Check out the entire Romper's Doula Diaries series and other videos on Facebook and the Bustle app across Apple TV, Roku, and Amazon Fire TV.