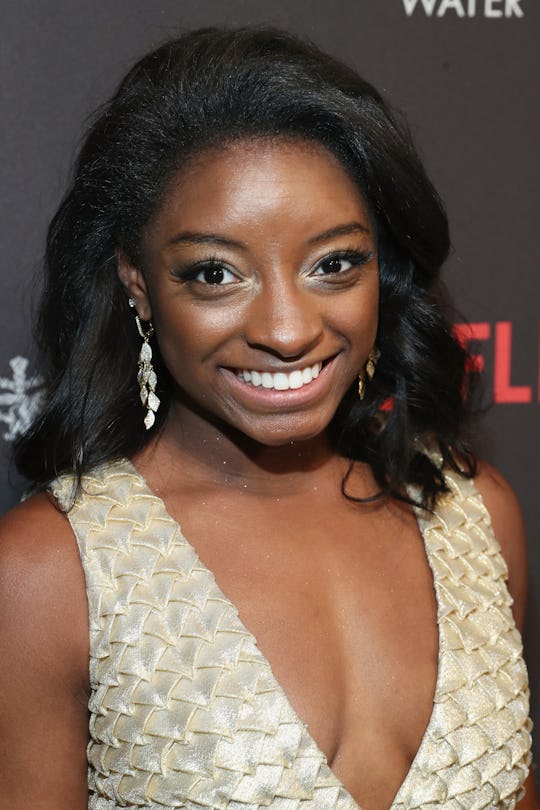 Jonathan Leibson/Getty Images Entertainment/Getty Images
Simone Biles Is Doing Well For Herself
Of all of the stars competing on Season 24 of Dancing With the Stars, Simone Biles, famous for her accomplishments at the 2016 Summer Olympics, is probably someone a lot of people are looking forward to watching. Not only has Biles proven herself to be a fierce competitor, but she didn't become famous for the sake of fame. And since she is a legit star now, it's only customary for fans to wonder what Simone Biles' net worth is.
Many new Olympic athletes don't always make millions as a competitor, even if they go home with several gold medals. But, according to E! News, Biles reportedly made $2 million in prize money and endorsements, which included Kellogg cereal, so the young gold medalist definitely isn't hurting financially. In 2016, Forbes added Biles to their list of the Top Ten Rio Olympics Marketing Stars and noted her additional endorsements for Nike, GK Elite Sportswear, and Core Power.
Competing on DWTS will bring in a whole new paycheck for the Olympic athlete, even if she doesn't win. The contestants on DWTS reportedly make $125,000 just for signing on and taking part in the first two episodes of the season. And if you make it to the final round, you get an additional $50,000, so add that to Biles' already insane net worth for a 20-year-old and she could make out pretty well by the end of the season.
Prior to participating in the 2016 Summer Olympics, Biles was competing in different gymnastics competitions. By the age of 17, she was being called the best gymnast in the world. At the Olympics, Biles won five medals and, in an interview with W Magazine, said that after the Olympics she was ready to relax again. "We get back to normal life and being a normal teen," Biles told the magazine, referring to herself and her teammates. "I'm sure it'll be a while till I compete again. We all deserve a break."
Whatever break Biles got to have is about to be over though as she competes once again, only this time it will be all about dancing, though it will still likely take a lot of practice and care, much like her gymnastics routines. Last season on DWTS, Biles' former Rio teammate Laurie Hernandez also competed and she recently passed along to Biles her lucky sequin sneakers to wish her good luck for Season 24. If Biles dances as well as she performs on the balance beam, she's going to be some real competition.