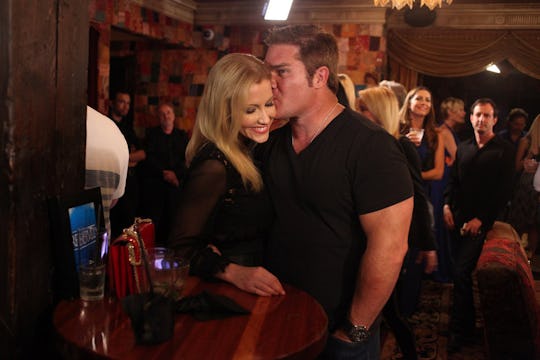 Bill Matlock/Bravo
What Is Stephanie Hollman's Husband's Net Worth On 'Real Housewives'? They Have Millions
Stephanie and Travis Hollman of The Real Housewives of Dallas certainly seem to be doing well for themselves. In the most recent episode, "Guess Who's Coming to Dinner?" Travis bought Stephanie a little present to cheer her up to the tune of seventy thousand dollars – you know, just an everyday kind of thing. Travis even bought Stephanie the Rolls Royce they rented for their wedding as an anniversary present. Stephanie said he'd buy her anything that would make her happy. But how exactly is he bankrolling all these extravagant gifts? What is Stephanie Hollman's husband's net worth?
Travis is worth a hefty $18 million, making the Hollmans one of the wealthier families in the Real Housewives franchise. Travis is president of Hollman, Inc., a company he inherited from his father, who started it back in 1976. Hollman, Inc. manufactures fitness lockers for gyms, creates racquetball and squash courts, and has a division called Altempco Glass that creates structural glass walls. They have a lot of major clients, such as sports teams and colleges, as well as big franchise gyms like L.A. Fitness and Planet Fitness. Hollman Inc. is pretty much the go-to company for things like this because they own a patent that prevents others from using their methods.
Hollman, Inc. is "the world's largest manufacturer of wood and laminate lockers," and on their website they boast of being the only AWI (Architectural Woodwork Institute) certified locker company out there, which sounds very official. The company has worked with well over five hundred colleges, as well as designed the locker rooms for huge stadiums like Wrigley Field. They're reaping the benefits of dominating in their chosen field and being in major demand because of it.
Travis has been in charge of the company since March of last year, and that appears to be where all of the Hollmans' income springs from. However, prior to taking over at his dad's company, Travis founded the company ViB, which produced a "relaxation drink" called Vacation in a Bottle. It's not clear if he still works with the company at all (considering their Twitter hasn't been updated since 2012, probably not), but his hands are probably full with Hollman, Inc.
The Hollmans definitely have it made. Travis' company is incredibly successful, and it's given them the kind of lifestyle that fits perfectly in a show like the Real Housewives. The company prizes itself for its innovation, constantly trying to create new and better techniques, and it certainly sounds like they do what they do very well. Odds are you've probably used one of their lockers or courts without even knowing it.