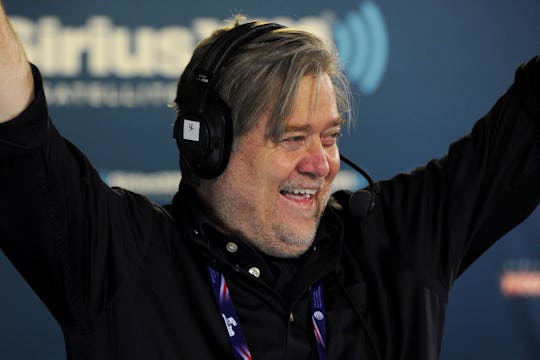 Ben Jackson/Getty Images Entertainment/Getty Images
What Is Steve Bannon's Stance On Abortion? Trump's Chief Strategist Pick Isn't Supportive
Steve Bannon is an interesting guy, to say the least. He's just become one of the most powerful people in the world by reportedly securing the role of chief strategist to President-elect Trump, a candidate with exactly zero experience in government, and few actual positions he can be pinned down in. Bannon is much different in that regard. He's a man with an ideology and a plan to reshape American life. What is Steve Bannon's stance on abortion? Let's just say he's hardly pro-choice.
Romper reached out to the Trump press office to get comment from Mr. Bannon, but has not yet received a response.
Bannon is a former Naval officer, Goldman Sachs banker, and Hollywood producer who still collects oodles of cash off of Seinfeld, according to Vanity Fair. Just prior to joining the Trump campaign as CEO, Bannon ran the Alt-Right news source of choice, Breitbart. Besides his impressive professional resume, Bannon has also racked up quite a list of accusations and statements he's actually made revealing a world view that seems openly hostile to women.
Just a few of the headlines churned out of Breitbart during Bannon's tenure include charmers like "Would you rather your child had feminism or cancer?" or "There's no hiring bias against women in tech, they just suck at interviews," according to Raw Story. There are way more angry anti-woman headers, but you get the idea.
Breitbart also made comparisons of Nazis and genocide to Planned Parenthood during Bannon's time at the outlet, according to Media Matters.
Bannon has also disparaged feminists by calling them "dykes" in a 2011 radio interview, according to Newsweek, saying:
That's why there are some unintended consequences of the women's liberation movement. That, in fact, the women that would lead this country would be pro-family, they would have husbands, they would love their children. They wouldn't be a bunch of dykes that came from the Seven Sisters schools up in New England. That drives the left insane and that's why they hate these women.
Bannon's faced accusations of sexual harassment for talking about women's "titties" and telling an employee her problem was that she was "a woman in a man's job," according to Newsweek. There are many other examples of Bannon's hostility toward women, including a recording of him calling a female employee a "bimbo" and a lawsuit alleging he fired a disabled woman while she was on maternity leave, Newsweek reported. The case was settled in 2006.
Bannon was also accused by his former wife of assault, according to the New York Post, although the case was later dismissed. Romper's request for comment regarding these accusations were not immediately returned.
In addition to Bannon's expressed views on women's rights, his new boss, President-elect Trump has vowed to try and overturn the 1973 Roe v. Wade Supreme Court decision that affirmed a woman's Constitutional right to access an abortion, Vox reported. Trump also said during the campaign that a woman who gets an abortion should get "some form of punishment," according to Vox.
With Bannon at the helm of the Trump campaign, which is already vowing to roll back reproductive rights in this country, and based on his past statements and behaviors, it's safe to assume Bannon is firmly anti-choice.