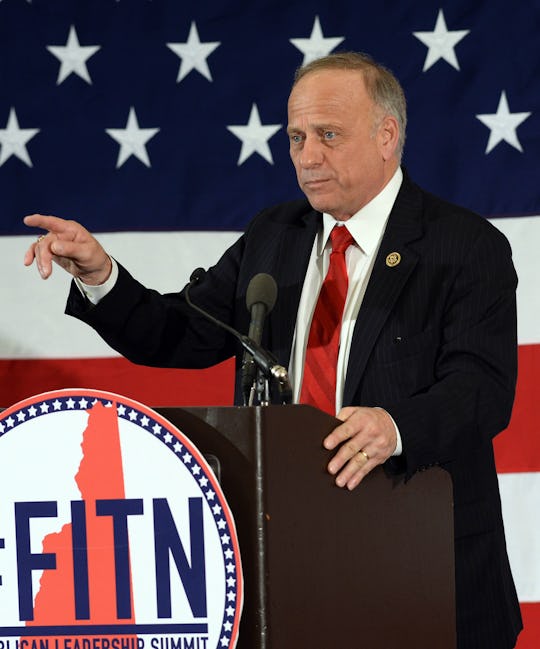 Darren McCollester/Getty Images News/Getty Images
What You Need To Know About The Heartbeat Bill
It's been under two weeks since the official swearing-in of the 115th Congress, but Senate Republicans have already been aggressively moving forward with a new agenda. As President Obama prepares to leave and President-elect Trump is about to take over the Oval Office, Congressional Republicans have been introducing bills that could mean serious changes to American. GOP Rep. Steve King from Iowa just introduced a nationwide bill modeled after the "heartbeat bill"; if the bill were to be passed, it would effectively ban abortions across the country.
The Heartbeat Bill was initially introduced in Ohio by Janet Porter, the president of Faith2Action. Ohio Gov. John Kasich vetoed the bill, which would have meant that any abortion performed when a fetal heartbeat could be detected (around six weeks) would be deemed illegal, but did pass a law banning abortions after 20 weeks. Porter then brought the heartbeat bill to Rep. Steve King to attempt to have it passed on a national level. King agreed, saying in a statement:
Human life, beginning at the moment of conception, is sacred in all of its forms and today, I introduced a bill that will protect the lives of voiceless innocents. My legislation will require all physicians, before conducting an abortion, to detect the heartbeat of the unborn child. If a heartbeat is detected, the baby is protected.
King's bill, introduced into the House as H.R. 490, is a direct assault against Roe v. Wade, the landmark decision passed in 1973 that gave women the power to make their own choices about their reproductive health. King released a statement on Thursday condemning Roe v. Wade, calling it unconstitutional:
Since Roe v. Wade was unconstitutionally decided in 1973, nearly 60 million innocent babies' lives have been ended by the abortion industry, all with a rubber stamp by the federal government.
The creator of the Heartbeat Bill, Janet Porter, has a long history of anti-choice extremism behind her. And while it is highly unlikely King's bill will be passed in either the House or the Senate, that won't necessarily stop Porter from continuing on her mission to end abortions. She told Rewire about seeking out King to introduce her bill, saying:
I gave him a packet and he has agreed to introduce a federal Heartbeat Bill, which would protect every baby whose heartbeat can be detected. That will actually end abortion in nearly every case. Ninety to 95 percent of the abortions will be ended with that bill.
Unfortunately, King's bill is just one of many anti-choice bills being introduced in recent weeks. And considering President-elect Trump's wishy-washy stance on women's reproductive rights... the future is looking grim.