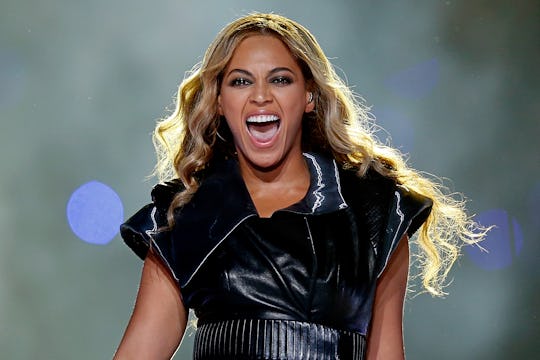 Chris Graythen/Getty Images Sport/Getty Images
What Is The Illuminati? Pop Culture Links Beyoncé To The Supposed Secret Society
Sooner or later, everything just has a way of circling back to Beyoncé. Elevators. Lemonade. Surprise visual albums. The word "bootylicious." A clandestine 18th-century intellectual society that most historians agree was eliminated centuries ago but that pop culture conspiracy theorists insist is buoyed by insanely famous celebrities bent on taking over the world. Huh? Yeah. If you talk to the right people (or get sucked into the a rabbit hole of not-so-reputable websites like beyonce-illuminati.com), you'll learn about the idea that Beyoncé, along with the likes of Madonna, Lady Gaga, and Kanye West, are secret members of the super-secret Illuminati. OK, fine. But what is the Illuminati?
The rumor mill that associates Beyoncé (and her husband, Jay Z) with the Illuminati has been swirling forcefully enough for years that she addressed it in the opening of her single Formation, released in February 2016. "Y'all haters corny with that Illuminati mess," the lyric goes. To put it mildly, this did not dispel the rumors.
But why does anyone believe that American celebrities belong to the Illuminati, which Bavarian Freemasons originally formed in 1776? Fact tells us that a man named Adam Weishaupt established the Illuminati in part to abolish powerful monarchies, and lore asserts that its current members "have infiltrated every government and every aspect of society around the planet," according to Encyclopedia.com. And we all know who runs the world. (It's Beyoncé. Get with it.)
Beyoncé is the rumored Queen of the modern-day Illuminati, placing her and her family at the center of the whirlwind (have you heard the one about her daughter Blue Ivy's name, which reportedly stands for Born Living Under Evil, Illuminati's Very Youngest?). She's supposedly not alone, though. Last year, rapper Kanye West talked about his (non) involvement the Illuminati during an interview with Paper magazine:
If there was actually an Illuminati, it would be more like the energy companies. Not celebrities that gave their life to music and who are pinpointed as decoys for people who really run the world. I'm tired of people pinpointing musicians as the Illuminati. That's ridiculous. We don't run anything; we're celebrities. We're the face of brands. We have to compromise what we say in lyrics so we don't lose money on a contract.
That's exactly what the Illuminati would say!, frustrated Illuminati-conspiracy diehards probably typed all over message boards when they read that. Undoubtedly, the true believers again referenced the time during her 2013 Super Bowl performance that Bey allegedly flashed the triangle Illuminati hand symbol.
Look into that one a little bit, though, and its certainly not as damning — or even as interesting — as it appears on the surface. Conspiracy theories are like that, I guess: fun, but ultimately more or less weightless. John Oliver explained that flawlessly on his show in March, so check out the video below before diving any deeper into that Illuminati mess.
In the meantime, I think I'll go blast Bootylicious.