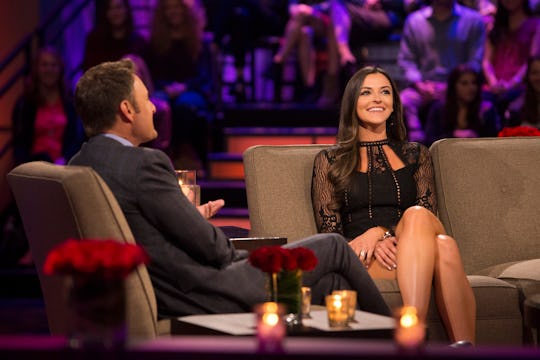 Paul Hebert/ABC
We Need To Know What 'Bachelor' Contestant Tia Is Up To These Days
Sometimes when you become part of Bachelor Nation and gain more than 15 minutes of fame, there's really no getting out. I don't know if Tia Booth is an unwilling participant in that newfound fame exactly, but she's definitely part of some drama on The Bachelorette this season, even though she's not the Bachelorette herself. So, what is Tia Booth doing now? The former Bachelor contestant will be in the week three episode of Becca Kufrin's season of The Bachelorette for a couple of different reasons. Initially, she was probably chosen to be one of Becca's Bachelor friends because she was genuinely happy for Becca when she was announced as the next Bachelorette on the After the Final Rose special in March.
But now, it looks like her appearance will also be a way for Becca to get to the bottom of Tia and Bachelorette contestant Colton Underwood's short-lived romance outside of the show. According to Colton and his confession to Becca, it was weekend long thing that didn't last longer and now it's over, but of course Tia is going to have to corroborate that to help put Becca's concerns at ease. Luckily, Tia seems to be completely over whatever relationship they had, as she told People magazine, "It would have been more complicated if we were an exclusive couple. That was never a thing. We knew logistically it wasn't really going to work."
Besides moving on from Arie Luyendyk Jr. though, Tia has been plenty busy living her best life.
According to Tia's Instagram, despite garnering some fame and recognition as one of the many Bachelor Nation stars these days, she's back to work as a physical therapist. Of course this hasn't stopped her from being able to travel across the country as needed to be part of tapings for The Bachelor franchise, but she hasn't given up a career that seems pretty important to her and that says a lot about who Tia is. Basically, she's as down to earth as she comes across. She also recently posed with Miss Arkansas in an ad for the local pageant dress shop Buffie's All The Rage and has had some luck with Instagram ads to capitalize on that Bachelor fame a bit, but you can't really blame her for that.
Tia is also apparently still close with fellow former Bachelor contestant Raven Gates, who was one of the finalists on Nick Viall's season. Since then, Raven found love with Adam Gottschalk on Bachelor in Paradise, proving that the "journey" really does work, and since she and Tia were already close before Tia appeared on The Bachelor, they're still good friends. In fact, they were part of the Bachelor group of women who went to Coachella together and gave me serious friendship goals. It was actually Raven and Adam who let some information about Tia's romance with Colton slip when they appeared on a podcast prior to Becca's season of The Bachelorette, but as we all know, the real details are finally about to come out on TV.
Even though Tia didn't find love with Arie and, afterward, with Colton, she might be up for finding in paradise on season five of Bachelor in Paradise. On Extra in March, Tia talked about the shocking finale of Arie's season of The Bachelor, but when the conversation swayed to the possibility of Tia appearing on Bachelor in Paradise this season, she seemed totally into the idea. "I would love to get to work with everyone again," she said. Since she became a fast fan favorite shortly after asking Arie if he had a small wiener when she gave him a miniature hotdog, a.k.a. wiener, because she's from Wiener, Arkansas, it wouldn't be surprising at all to see Tia continue on in the franchise.
Of course the official cast announcement for season five hasn't come yet, but given that Tia is still close to everyone from The Bachelor and she's obviously moved on from Arie and her time with him on the show, she's probably more than ready to try and find love in paradise.