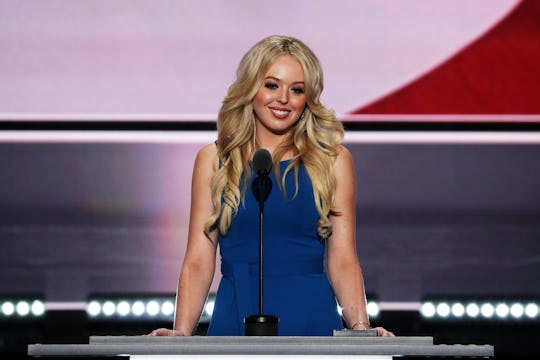 Alex Wong/Getty Images News/Getty Images
What Is Tiffany Trump's Net Worth? It's Not As Much As You Might Think
Tiffany Trump showed up at the Republican National Convention this week to speak on her father's behalf. The 22-year-old is the only child that Donald Trump had with his second wife, Marla Maples, whom he was married to from 1993 to 1999. Maples too showed up to support her ex and her daughter at the convention, and as sweet as all that family camaraderie is, some might be wondering how much Tiffany Trump is worth. Mainly because Tiffany hasn't really been in any spotlight around her dad until the campaign began, and hey — she's a Trump, right? She's probably got a good amount to her name.
Of course, Tiffany's absence on the campaign trail so far is easily explained: She just graduated this spring from the University of Pennsylvania, an event that her father, mother, Melania Trump, half sister Ivanka, and half-brother Barron attended. These guys really stick together.
Tiffany was raised mainly by her mother in California and is estimated to be worth just around $600,000 which is a lot more money than I will probably ever have, but not a lot compared to her step-siblings. They're all estimated to be worth millions, but they also work for the family business and have their own gigs on the side. So Tiffany probably just needs a little time to get into the working world. Although she has a college degree, she's already started to make a name for herself in the pop music world. Business and politics by her father's side might not be what she's planning for her future.
Tiffany called her father a "natural born encourager," and many viewed her speech to be warm and helpful to her father's campaign. Others saw her speech as a tribute to a man she might, reportedly, not really have spent a lot of time with growing up, though her anecdotes were mainly about him always having her back and staying in touch. Like with many public figures, there's more speculation than facts about what her and her father's relationship is like in "real life."
Her mother, though, was super proud of her daughter's "grace," as she put it, throughout the campaign. Maples said on Wednesday morning, "Having raised her, I knew she would ultimately have a public life. But watching her sit there in that arena (during the Trump Town Hall this spring) with that much pressure on her and see how the love we have shared through the years has shaped her. She has become a woman. I could not have been more proud of her."
Growing up, Tiffany braved tabloid stories about her parents divorce and it seems to have kept her pretty, well, grounded. As her mom told People on Wednesday, "It gave her the strength and courage to be able to walk into the world now with so many eyes on her." Maples added, "she's really strong. She has a bit of a thicker skin than me. She doesn't let the haters get to her like I did."
That thick skin showed on Tuesday night as she gave her first big speech ever on behalf of her father. That kind of attitude is always worth more than whatever is in a trust fund.