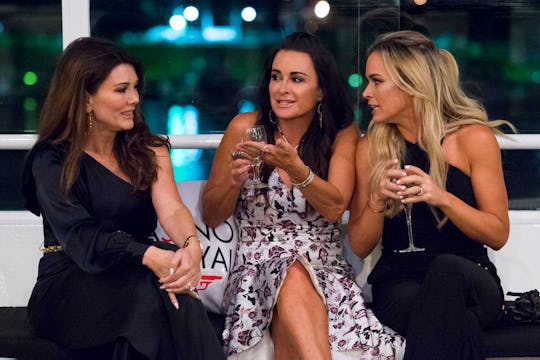 Nicole Weingart/Bravo
Teddi Jo Mellencamp's Mom Has Led An Exciting Life
Sometimes it's hard to forget that The Real Housewives of Beverly Hills newcomer Teddi Jo Mellencamp has a super famous father. (You've probably heard of him — John Mellencamp, who is in the Rock and Roll Hall of Fame.) But what about Teddi's mother? There isn't much information out there about her. For instance, what is Victoria Granucci's job? As a matter of fact, Granucci is a pretty private individual.
Back when she met Mellencamp, she was working as an extra. If you look closely, you can apparently find her in CHiPs, Happy Days, Love Boat, Fantasy Island, Charlie's Angels, Grease, and Thank God It's Friday. She also starred in her husband's music videos, most notably "Jack and Diane."
Granucci told NobleMania.com that working with her then-husband was a good experience. "I had previously worked behind the scenes on many of John's videos so it did not seem that different to make the progression to being in a video," she said. "John is very good at maintaining creative control of all the things he does."
Once they married, they moved to Indiana and it doesn't seem like she kept working as an actress. With her husband on tour and two daughters to raise — Teddi was born in 1981, the year they got married, and Justice in 1985 — it makes sense that she would be a full time stay-at-home mom.
After the divorce in 1989, Granucci moved to Hilton Head, South Carolina, and it doesn't look like she had a job there either. On her Facebook page, it says that she works at Reilley's North End Pub, though it doesn't state in what capacity. So if you're on vacation in Hilton Head, maybe she can serve you a beer. Even if she's not a waitress or owner, it looks delish all the same.
Mellencamp has confessed in the past that he was unfaithful to his wife while on tour, chalking it up to a professional hazard. He told Entertainment Weekly back in 1994, after he had moved to another house in Hilton Head to be close to his kids, "It's rock & roll. I mean, what other reason would a guy ever pick up a guitar as a teenager?" But he had since learned his lesson. The rocker added:
It's just like anything: Once you make enough mistakes, you understand what the penalties are. Back then I had the best of both worlds. I'd come home to Indiana, had two beautiful kids, a nice wife, the whole bit. Out on the road I was still 19. And (Vicky) just got sick of it. Can't blame her. So I lost my kids. I thought, man, what have I done?
It seems like the family has since reconciled. Granucci told NobleMania.com, "I am still very close with John's family given that we all share our two children and their children [Vicky's grandchildren]. John and I are always just a phone call away." She added that she never remarried, and that the last time she saw John was a few years ago at a concert he did nearby.
So when Teddi talks about visiting family, it must not all be together. But being a grandma is one of Granucci's favorite things these days. She told the outlet in the same interview that these days she's just, "focusing on being a grandma. My daughters have wonderful children and have really given me a whole new outlook on life."
Teddi posts about her mom on social media a lot, putting up throwback pictures of her entire family together. And it looks like both her mom and dad attended both of her weddings, the first to Matthew Robertson and then Edwin Arroyave.
Although she might not be a famous model or rockstar, Teddi's mom definitely seems to have a nice life set out for herself. What better job is there than being a grandma?
Check out Romper's new video series, Romper's Doula Diaries:
Watch full episodes of Romper's Doula Diaries on Facebook Watch.