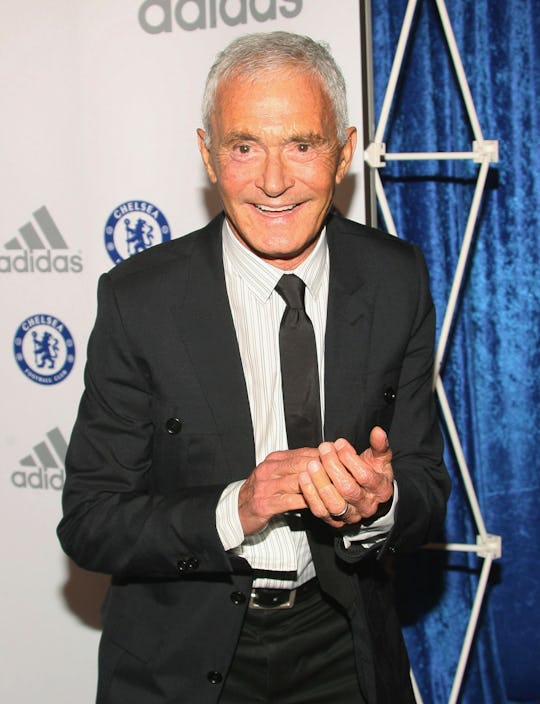 Frederick M. Brown/Getty Images Entertainment/Getty Images
Vidal Sassoon's Net Worth Is Impressive
Following iconic hairdresser Vidal Sassoon's death in 2012, details of his will began to emerge, revealing which family members would receive a portion of his considerable fortune and which were cut out entirely. The news was controversial, considering that, at the time of his death, he was on his fourth marriage, and he had several children, not all of whom were included in his will. The Real Housewives of Beverly Hills newcomer Eden Sassoon (technically on "friend of the Housewives" status for Season 7) was included in the split of her father's assets. So what is Vidal Sassoon's net worth? Unsurprisingly, he had amassed quite a fortune.
At the time of his death, his net worth was reported to be around £100 million, which amounts to about $125 million, including a $6.45 million estate in London, as well as a Los Angeles residence. All three of his ex-wives — Elaine Nations, the mother of all four of his children Beverly Sassoon, and Jeanette Sassoon — were shut out of his will, as well as his adopted son David, with whom he had become estranged after a falling out. His two surviving children, son Elan and daughter Eden, and his fourth wife Rhonda were entitled to the entirety of his estate and assets. His remaining daughter Catya died of a drug overdose in 2002.
Vidal Sassoon made his fortune after his signature style, the stacked, angled bob, caught on in Europe and eventually in America. He opened his first salon in 1954 and came up with his take on a bob in 1963. After a few celebs adopted the style, he came to America and became an instant hit in Hollywood. In 1973, he launched his line of haircare products, which have been ubiquitous in drug stores ever since. He remained an iconic figure, showing up from time to time as a guest judge on reality competition shows like Bravo's Shear Genius.
His 2012 death followed a three-year-long battle with leukemia and his will had been updated as recently as two months before he died. Sassoon wrote about his strained relationship with his son in his 2010 autobiography, disclosing, "There's a certain point in my character where if I feel a situation is hopeless — walk away. Don't torment yourself constantly. I walked away."
Even though David's disinheritance made waves for the salacious nature of the rift, he actually still keeps in contact with his siblings and enjoys a close relationship with them.