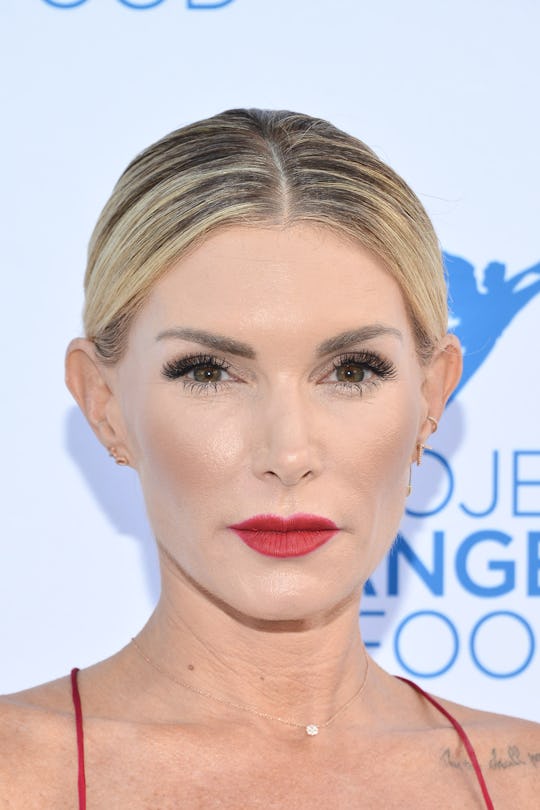 Araya Diaz/Getty Images Entertainment/Getty Images
Eden Sassoon Has A Very Famous Father
When you hear the name Sassoon, visions of salons and hair care products undoubtedly come to mind. So when it was revealed that Eden Sassoon would be added to The Real Housewives of Beverly Hills roster, it brought up some important questions about her family lineage. Like, who is Eden Sassoon's dad? The Real Housewives of Beverly Hills star is the offspring of someone who is very famous is his own right, considering she is the daughter of the late Vidal Sassoon, whom I'm sure many of you are already familiar with. That's right, my friends — Eden's dad is the Vidal Sassoon, who created the original bob haircut and whose name is plastered all over salon products worldwide.
Vidal died in 2012 at the age of 84 years old, after being diagnosed with leukemia in 2009. But he is remembered for being revolutionary in the hair styling game and his name alone is synonymous with hair trends and hair styling staples. Vidal started working at the early age of 14 years old and eventually became a hairstyling apprentice at the insistence of his mother, according to his autobiography Vidal: The Autobiography. However, Vidal went on to say that he had wanted to become a professional soccer player originally before transitioning into the world of hairstyling. Vidal wrote, "I could not imagine myself backcombing hair and winding up rollers for a living," but he went on to take an apprenticeship and made the decision to change the hair game himself.
In the 2010 documentary, Vidal Sassoon: The Movie, Vidal said that as soon as he opened his first salon in 1954, he had a vision of what it should be. "I made up my mind then that if I was going to be in hairdressing long term, I wanted to change things," he said. "I didn't have a picture of what hair should be, but I had a definite picture of what hair shouldn't be." In 1963, he created the original bob haircut when he cut the hair of Hong Kong actress Nancy Kwan and eventually did the same for big names like Goldie Hawn and Mia Farrow.
According to The New York Times, this was around the time as when Natalie Donay, an advertising executive, brought Vidal over to the U.S., where he soared as a hairdresser to the stars. In 1973, Vidal launched his first line of Vidal-named haircare products and from there, his empire continued to grow. At the time of his death in 2012, Vidal had a net worth of roughly $130 million, which was left to his fourth wife, Rhonda, his daughter Eden and son, Elan. Eden's adoptive brother, David, was famously cut from Vidal's will shortly before his death, but David remains close to his siblings today.
And while Eden has undoubtedly added her own unique flair to her salon and Pilates studios, it's clear that she's doing her best to follow in the footsteps of her late father and make him proud, which I'm sure that he is.