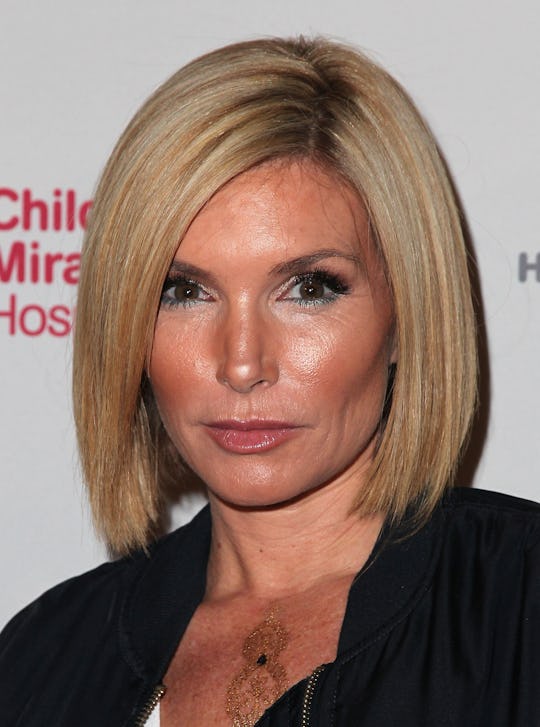 David Buchan/Getty Images Entertainment/Getty Images
Eden Sassoon's Net Worth Is Impressive
She might not qualify as an official housewife member of the cast, but Eden Sassoon, daughter of the late and widely known Vidal Sassoon himself, is a new and welcome addition to the supporting cast of The Real Housewives of Beverly Hills. Obviously, to hang with these ladies you have to have a level of credibility and wealth though, so fans are probably wondering, what is Eden Sassoon's net worth?
The Real Housewives of Beverly Hills cast member has a net worth of $15 million, according to the-net-worth.com, which is in part due to the fact that she is an heir to her father's fortune, but also because of her own exploits as an entrepreneur. As the owner of the EDEN by Eden Sassoon salon in Beverly Hills and the proprietor of two different Pilates studios, Eden knows how to make her own money. But like I said, she's also one of the heirs to her father's $150 million fortune that he left behind when he died in 2012, which is what helps to put her net worth at such an impressive amount.
Eden's Pilates studios are in both Los Angeles and Beverly Hills and, according to the website, her goal in opening them was to continue in the same kind of brand her father has curated based on health and beauty. "I designed my Pilates studio to be a source of health, wellness and happiness and am delighted to share it with such an empowering community," she wrote. "Come experience Pilates the Sassoon way."
Eden was a new addition to the cast of RHOBH Season 7, but quickly found a kinship of sorts with Lisa Rinna. And while Eden isn't exactly a housewife, having been divorced and currently raising two children as a single mom, she certainly has been a wife before and has more than enough clout to hold her own on a show full of interesting relationships and unique marriages.
Eden's net worth on RHOBH is also likely due in part to her divorce from president and founder of Native Pictures, LLC Tomer DeVito, along with her inheritance and many businesses. In fact, according to Eden, it was her father who originally inspired her to do something for herself after her marriage ended. So Eden began going to therapy and soon after, opened her first studio. What followed was another Pilates studio and her salon, EDEN by Eden Sassoon.
Now, she's shouting and gossiping with the best of them on RHOBH, but hopefully she can bring some semblance of peace to the air. But then again, what fun would that be?