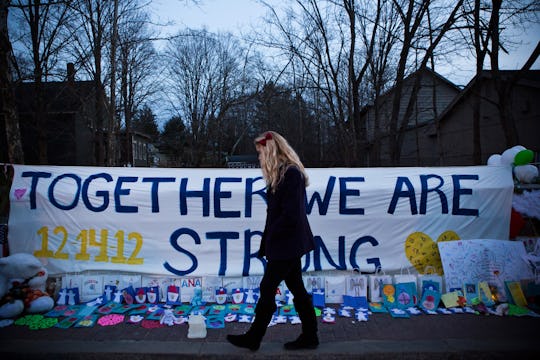 Andrew Burton/Getty Images News/Getty Images
What Is Wear Orange Day? Families Affected By Gun Violence Are Speaking Out
Gun violence has had heartbreaking consequences for millions of American families. Every day, nearly 300 people are shot or killed in incidents involving firearms, including approximately 48 children and teens, according to the Brady Campaign to Prevent Gun Violence. Still, it's an issue that advocates say can sometimes get ignored — that is, until another horrific shooting takes place. That's why on June 2, people across the country have vowed to put personal stories of gun violence and victims out for all to hear. Twitter and Facebook users might have noticed on Thursday that many celebrities and organizations had posted photos of themselves wearing orange and have urged others to do the same. What is Wear Orange Day? According to gun violence prevention advocates, it's an important way to keep the nation's focus on the victims of gun violence in America.
Why wear orange? According to the Wear Orange official website, the movement began in 2013 when 15-year-old Hadiya Pendleton was shot and killed in Chicago just one week after marching in President Barack Obama's second inaugural parade. Her friends chose to wear the color orange — a bold, bright color that helps keep hunters safe from harm in the woods — to honor her memory and draw attention to the need to protect other teens from the dangers of gun violence.
Nza-Ari Khepra, who served as a founding member and president of the organization Pendleton's friends started in her honor, told CNN last year that the incident sparked action in their community.
After we lost Hadiya, there were a lot of emotions going on. The conversation motivated students and community members to get involved.
According to CNN, since 2013, the group of Chicago young people has entered partnerships with Amnesty International, Everytown for Gun Safety, Americans for Responsible Solutions, the Brady Campaign to Prevent Gun Violence, and the Caliber Foundation to call more attention to make Wear Orange Day a national movement.
This year, the second annual National Gun Violence Awareness Day comes at a time when gun control is — once again — in the national spotlight. On Wednesday, the University of California, Los Angeles campus was placed on lockdown when a shooting was reported in the school's engineering building. According to the Los Angeles Times, UCLA professor William Klug was killed in an apparent murder-suicide when a student opened fire in an office on the campus's south side.
Sadly, the UCLA shooting is one of hundreds of violent gun-related incidents that happen in the United States each year, according to the Brady Campaign website. The group estimates that some 108,000 children and adults are shot in murders, assaults, suicides, or police interventions.
Not all of those stories become part of the national conversation on firearms, but according to the Wear Orange website, taking part in National Gun Violence Awareness Day is a way for people to make sure none of the real consequences of gun tragedies go unmentioned.
What started in a south side high school to celebrate Hadiya has turned into a nationwide movement to honor all lives cut short by gun violence. Wear Orange is also a celebration of life – and a call to action to help save lives from gunfire.
To learn more about Wear Orange Day or share a story related to gun violence, visit www.wearorange.org or follow the #WearOrange hashtag on Twitter.