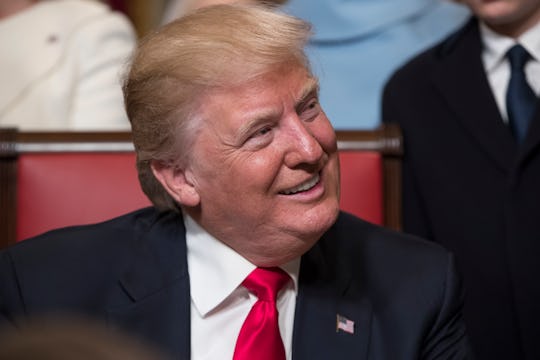 Pool/Getty Images News/Getty Images
The White House Website Is Seeing A Serious Shift
With the peaceful transfer of power happening on Capitol Hill, there was another transfer happening on the internet — switching the Twitter account for the President of the United States from President Obama to President Trump and updating the White House website. Previously, the White House website listed many issues that Obama was working towards, but what issues are included on Trump's White House website — there are several pages that were present when Obama was president that are now missing.
According to New York magazine, changes on the White House website were almost immediate. The White House website used to have links for 27 issues, including criminal justice reform, climate change, health care, LGBTQ, and civil rights. Currently, Trump's White House website has only six issues listed — America First Energy Plan, America First Foreign Policy, Bringing Back Jobs and Growth, Making Our Military Strong Again, Standing Up For Our Law Enforcement Community, and Trade Deals Working For All Americans.
These issues are listed as "Top Issues" and include some new ones that weren't previously on the Obama White House website. According to The Washington Post, Trump hasn't listed any new plans or policies, but simply rehashed his biggest and most prominent campaign promises. Maybe this is why there are only six issues listed on the website? Trump hasn't been known for having a lot of information on his policies or what he plans to do as president, but his promises during the election seem to have stuck around.
According to Refinery 29, it's more than just previous issues not being listed — if you search for them, you're met with nothing. Instead, it seems they have all been archived to ObamaWhiteHouse.gov, which is what the White House website looked like under the Obama administration.
Trump's issues listed on the website include phrases like, "for too long, we've been held back by burdensome regulations on our energy industry" and "The dangerous anti-police atmosphere in America is wrong. The Trump Administration will end it.
In other words, the Trump White House website sounds as scary as President Trump himself. America can only hope that the six issues listed on the website are not the only ones Trump is interested in putting any effort in and that, soon enough, there will be more information on LGBTQ and civil rights. Six issues are simply not enough, especially when they only include things on foreign policy and law enforcement rather than equal pay, equal rights for all, and climate change. Maybe Trump's transition team is just getting started on the website, but if his previous track record is to believe, those may be the only six issues America hears about for the next four years.