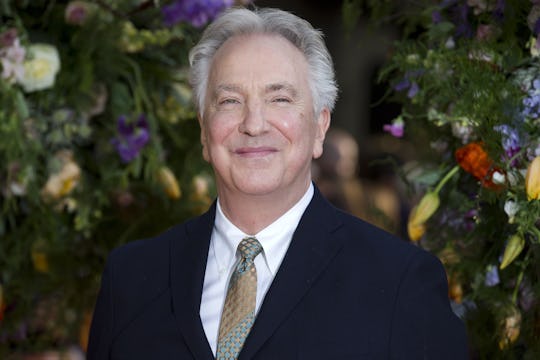 What Kind Of Cancer Did Alan Rickman Have? The 'Harry Potter' Star Died At 69
When the new came Thursday morning that beloved British actor Alan Rickman had died of cancer at 69, the question on many fans' minds was, what kind of cancer did Alan Rickman have? And no doubt many were hoping that he suffered as little as possible. Rickman, known for his role as the Sheriff of Nottingham in Robin Hood: Prince of Thieves and, more recently, Professor Snape in the Harry Potter films, had kept his illness a secret. According to The Daily Mail, a statement his family released Thursday read,
The actor and director Alan Rickman has died from cancer at the age of 69. He was surrounded by family and friends
but did not mention what kind of cancer he had.
He was very private; his rep revealed earlier this year that Rickman married Rima Horton, three years ago. According to People, the two were together for 40 years.
While fans wait for more news about the circumstances of Rickman's death, expect an outpouring of morning for an incredible talent taken too soon. Whether you best remember Rickman as Snape or loved him in your favorite rom com, period film, or action flick — his work included favorites like Truly Madly Deeply and Love, Actually, Sense and Sensibility, and Die Hard — he won't be forgotten. RIP.
Image: JUSTIN TALLIS/AFP/Getty Images