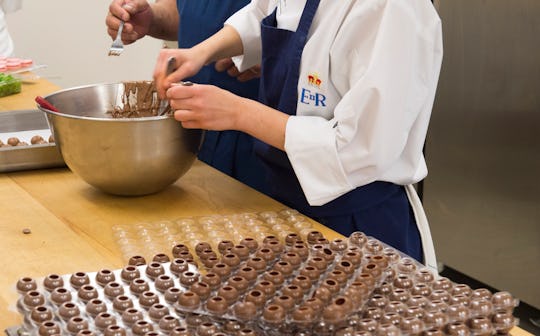 WPA Pool/Getty Images Entertainment/Getty Images
Here's What The Royal Wedding Guests Will Be Munching On After The Ceremony
Photography and food — those were our top priorities when my husband and I were planning our wedding. Sure, the dress was cool and we chose a beautiful location, but the food (and someone to capture all of our joyful faces after eating it) was kind of front and center. So it will come as no surprise to you that one of my top questions about Prince Harry and Meghan Markle's pending nuptials was simple: What kind of food is at the royal wedding? Because if fantastic food isn't involved, then is it really a royal wedding at all?
It turns out that the couple will not disappoint with their dishes of choice. While an official menu has not been announced, Food & Wine noted that behind-the-scenes photos released by Kensington Palace showed Windsor Castle Chef Mark Flanagan (the main man in charge of the royal wedding menu) and his crew prepping dishes with asparagus, potatoes, and tomatoes. Pastry chefs are also shown making chocolate truffles, a traditional Windsor Castle dessert.
But perhaps the most exciting piece of news was that Meghan Markle wants to have food trucks on hand as the festivities continue well into the evening, according to Brides. (Rumor has it there will be not one, but two receptions to celebrate the newly married pair.)
According to Express UK, the food trucks will come during a private party at Frogmore House and will include "ice cream vans serving late night food towards the end of the disco." The Mirror reported that the "wild carnival and festival-themed" after-party will boast a Tiki bar that includes "apache shooters" and "frozen strawberry sparkles," as well as other cocktails. "Guests will reportedly be welcomed by a steel band before feasting on South African wagyu beef and quaffing iced beers, champagne, and ice luges filled with vodka," the publication noted.
As for the primary afternoon reception at Windsor Castle, Vanity Fair revealed that none of the guests will go hungry. "Bowls of traditional and locally sourced British fare such as miniature shepherds pies and fish and chips will be cooked up by palace chefs as well as platters of canapés which can be picked up by hand and eaten in two mouthfuls," the magazine said.
In February, Brides reported that the couple had also selected a banana fruit cake for dessert. The magazine said that while this is the first time bananas have been the main ingredient in a royal wedding cake, using a fruit base falls in line with royal traditions. "Prince Harry apparently loves 'anything' made with the yellow fruit, and his chef has spoken in the past about making him and Prince William desserts like banana flan, banana ice cream, and banana caramels," Brides noted.
Flanagan told Express UK that keeping things local is also important to the couple so he and his staff have used seasonal produce as much as possible throughout the menu. "The day of the wedding has fallen very kindly for us," he told the website. "All the British vegetables are just coming into season and that's been a point of focus for us."
Which is really just another way of saying that the royal crew has their food shenanigans in order. Because if you and I are salivating just by reading through that list of food, then can you imagine how pleased the guests who actually get to eat it will be? I mean, come on.
So, Prince Harry and Meghan, I know this soiree is kind of exclusive and all of that, but can you help a girl out with an invitation?