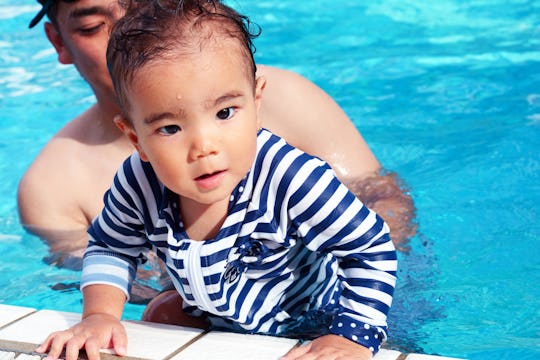 hinata815/Fotolia
Here's How To Choose The Safest Swimsuit For Your Baby
It's summertime, and that means pool or beach time for some (very) lucky people and their families. From one-piece character bathing suits and boardshorts, and even mini bikinis, there seems to be a million different cute swimsuit options out there for your baby. With all these overwhelming choices, you may be wondering, what kind of swimsuit should your baby wear? Are some swimsuits safer options than others?
Dr. Rachel Nazarian, a dermatologist from Schweiger Dermatology, recommends babies wear as much protective clothing as possible when out in the sun to protect their super-sensitive skin from ultraviolet rays. But with this extra fabric, how do you prevent your baby from overheating? "Lightweight fabrics that are specifically for beachwear and block UV [rays] are more breathable and will decrease the risk of overheating, which can be caused by ordinary long-sleeved fabrics not meant for similar use," Nazarian tells Romper in an email interview.
These lightweight fabric "swimsuits" are called rash guards, and prevent your baby from getting too much contact with the sun. Some rash guards even have Ultraviolet Protection Factor (UPF) 50 (where normal white cotton t-shirts are UPF 7), so that's a pretty awesome way to ensure you prevent your baby from getting sunburn — or even worse, developing skin cancer later on.
If you're itching to put your baby in a swimsuit that looks like an adult swimsuit, and not a rash guard, it is so important to make sure you put sunscreen on them. Nazarian recommends Promise Organic Baby Sunscreen, "which is made with natural ingredients containing nano-free zinc oxide," she says. And you can start putting sunscreen on your baby as early as 6 months. So before then, you should probably stick to using the rash guards, keeping them inside, or under an umbrella.
"Direct sun exposure should be limited as much as possible in babies. Their skin is delicate and more susceptible to burning. There's no strict rule about how long a baby can be by the pool or ocean, but with the right protection, and avoidance of direct sun, they can safely be outdoors for a few hours," Nazarian says. "There's never an age where we recommend moving away from sun protective clothing. Even adults are encouraged to find UV-blocking shirts and shorts to help minimize radiation damage while at the beach or pool."
While mini swimsuits that look like adult bathing suits are really cute, unless you're slathering on the sunscreen (after they're 6 months old) you may want to invest in rash guards, according to dermatologists. Rash guards come in a lot of cute patterns and colors, your baby will look like a little mini surfer, and you'll be preventing sunburn and skin cancer, which is totally righteous, dude.